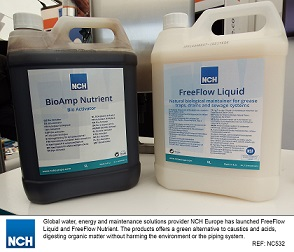 The company says the product offers a green alternative to caustics and acids, digesting organic matter without harming the environment or the piping system.
FreeFlow Liquid consists of ten strains of aerobic and facultative bacteria that are able to digest organic matter, such as fats, oils and grease (FOG). The bacteria are able to work effectively across the wide range of pH, temperature and low-oxygen conditions that are common in drain lines and grease traps.
The particular strains of bacteria used in the product are food-safe and the product is NSF L2 approved, making it suitable for use in food processing applications. It can also combat the foul odours associated with FOG build-up, as the FreeFlow bacteria outcompetes sulphur-reducing bacteria and prevents H2S gas from forming.