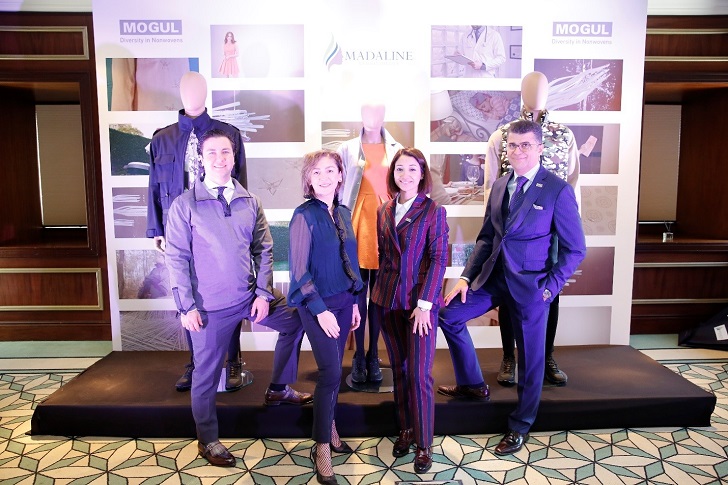 Nonwoven manufacturer Mogul is looking to open a door to fashion based industries and related segments such as home textiles, medical, automotive, cleaning and packaging.
Exporting globally, Mogul's Luleburgaz plant is one of the few facilities in the world which manufactures patented microfilament fabric.  
During the development of techniques and technologies, Mogul has prioritised health and the environment. Its microfilament fabric uses no solvents, binders nor PVC in its production. Water consumption and carbon emissions are minimal and the finished fabric is lint-free so there is no carry-off into the wash water of synthetic particles to pollute waterways.  
Fabric properties
The microfilament fabric, developed under the Madaline brand, has a dense web enabling it to provide good barrier and filtration properties.  The entanglement of very fine microfilaments provides extensive surface area and the micro-channels allow the fabric to be absorbent, breathable and capable of transporting perspiration away from the skin. Being lighter and quicker to dry than conventional fabrics, it allows savings in water, detergent and energy.
The fabric has good thermal insulation, good moisture management, is a wind barrier and with UV absorption capability it is beneficial for apparel, workwear and military wear. 
Madaline is a natural barrier against bacteria and microscopic particles therefore its application includes antiallergic products and medical use. Also, its high-tech cleaning performance matches the hygienic cleaning requirements of operating rooms, intensive care units and other areas of a hospital.     
Fashion designer, Arzu Kaprol said:"As a new technology and unique material, which is easy to convert, it is an important alternative for the ready-to-wear apparel and textile industries.