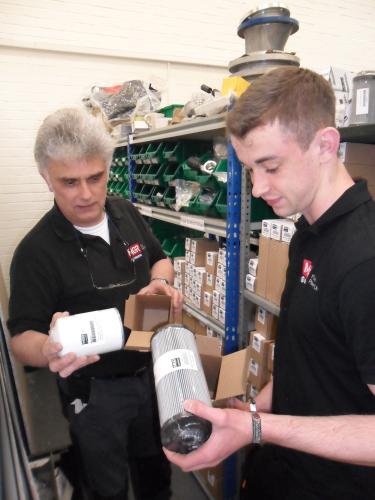 MGR Fluid Power, which designs and manufactures hydraulic and lubrication systems, has taken delivery of the replacement filters, and will sell them throughout the UK as well as globally. The filter elements are a critical part of hydraulic systems used by many OEMs and distributors, and are a key component in reducing the risk of hydraulic contamination, which can cost operators thousands.
Contamination
It is widely estimated within the hydraulics trade that between 70 to 80% of hydraulic system failures are caused by contamination, with particle contamination making up the largest portion. Regularly updating and replacing filter elements can significantly reduce the risk of contamination, which can have a knock-on effect if not identified and treated immediately.
Mike Retford, Managing Director at MGR Fluid Power explained: "The hydraulic pump is generally the most expensive component on a hydraulic system. It has the highest reliability risk, the highest contaminant sensitivity risk, and, when contaminated, can disrupt an entire system.
"The replacement filters that we have specially imported from North America will protect against the risk of contamination and significantly reduce maintenance and servicing costs. When a pump starts to fail, it kicks a debris field downstream of the pump. If a high grade filter is not fitted, this debris can migrate into valves and actuators and will damage these components, causing thousands of pounds of damage through system degradation resulting in ultimate system failure. This can mean loss of production that, in sectors like the oil industry, can lead to millions of pounds of lost revenue."
Common problem
Contamination in hydraulic systems is a common problem and can enter a system through the fluid supply, passed on by quick release couplings, cylinder rod seals, breather caps and worn cylinders, causing corrosion, leaking, and system shut-downs. MGR Fluid Power has experience of problem solving hydraulic failures stretching across the last 20 years and provides solutions for hydraulics manufacturers worldwide.