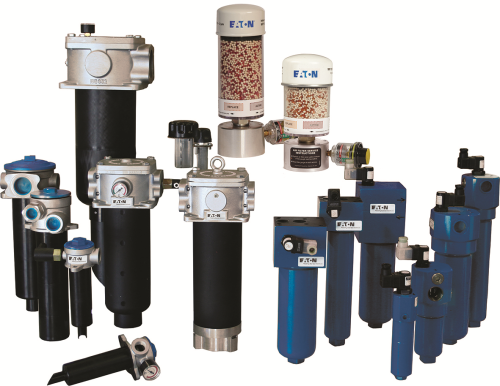 The Filtration Division of power management company Eaton will demonstrate its filtration products designed for hydraulic and lubrication oil applications at HMI trade show in hall 21, booth B15, April 24 to 28 in Hannover, Germany. The exhibition program includes filtration products to remove solids and water from hydraulic and lubrication fluids used in compressors, gearboxes, power units, lubrication modules, mobile hydraulics and factory equipment. Using any of these filtration solutions help keep fluid operating at peak efficiency, prevent contamination harming hydraulic systems, and minimize downtime and operation costs.
Gear lubrication
Eaton's Twinfil TWF 4000 filter unit has been redesigned for gear lubrication systems in wind turbines. Whether used onshore, offshore or in cold climates, it filters and de-aerates oil under challenging operating conditions including cold starts for top system performance and uptime. The anodized aluminum body in a compact design is sea waterproof for maximum corrosion resistance and reduces weight by more than 75% compared to standard options in carbon steel or cast iron. Eaton will also show a selection of filter housings for stationary and mobile hydraulic systems that have been designed to extend product life of the fluids with better fuel usage. The simplified mounting of the HPX manifold mounted pressure filters provides filtration directly at the point needed and prevents contaminants from passing downstream during element changes.
The TEF 426 in-tank return line filter prevents contamination from entering the reservoir and reduce the possibility of oil spillage during element changes. The silica gel granules in the BFD tank breather filters absorb moisture to protect oil from oxidation.
Filter elements
Complementing the filter housing offering, Eaton shows a range of filter elements for trouble-free operation when filtering abrasive or water-based fluids and cooling lubricants. More than 4,000 high-performance filter elements are available with various filter materials, different construction types and micron ratings to help protect critical system components and achieve cleanliness class requirements. The exhibition program will be rounded out by the CCS 4 contamination control system. This system helps to promptly initiate actions and cost-saving measures before any failure can occur. It enables users to evaluate the precise condition of the system fluid by knowing particle size distribution of contamination plus water saturation and fluid temperature.