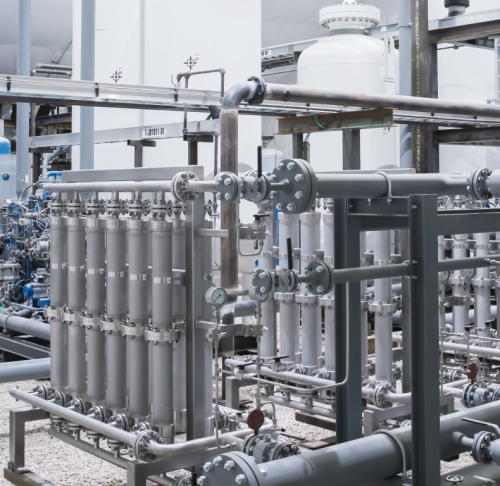 Evonik's polymer-based membrane technology will be used in the Linde Engineering Division's gas separation and purification plants. As a result, Linde completes its portfolio, bringing together all relevant gas separation processes within one company.
Evonik's SEPURAN® membranes enable gases such as methane, nitrogen, helium, and hydrogen to be efficiently isolated in pure form from gas mixtures.
Evonik recently held a groundbreaking ceremony for the expansion of its site in Schörfling, Austria where the company is building another operations complex for the production of its SEPURAN gas separation membrane modules.
Tobias Keller, head of the Adsorption and Membrane Plants Product Line at Linde's Engineering Division, said: "Evonik's high-selectivity membrane in combination with our other established gas separation technologies, such as our world-class adsorption technology, allows us an extraordinary flexibility in the development and application of new and more efficient purification processes. We are thus strengthening our position as the leading company for gas separation technologies over the entire lifecycle of a plant."
Dr Axel Kobus, head of Evonik's Fibres, Membranes & Specialties Product Line, said: "The synergies arising from the collaboration between our two companies are evident: The translation of our profound polymer and technology expertise into a powerful and wide-ranging membrane product portfolio perfectly complements Linde's high expertise in plant engineering and gas separation. The combination offers the ideal conditions to jointly develop new markets for gas separation."
The collaboration between Evonik and Linde has already resulted in a reference plant for helium purification in Mankota, Canada, which started up in August 2016. This first-of-its-kind helium purification facility uses a hybrid process of membrane and Pressure Swing Adsorption (PSA) technology. The new plant processes 250 000 cubic metres of crude gas every day, producing industrial-quality helium of 99.999% purity.