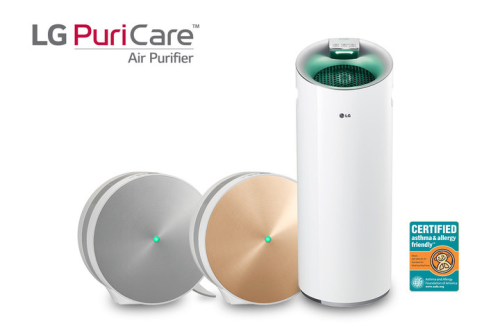 Through its asthma and allergy friendly® Certification Program, AAFA independently tests products in accredited laboratories and certifies those that are most suitable for asthma and allergy sufferers. Around 1 out of 5 Americans suffer from asthma and allergies. 
The LG air purifiers help to improve indoor air quality by reducing air-bound allergens such as pet dander, pollen and mould spores.
Operating as quietly as 20 dB, each model features a highly effective three-stage filtration system: a washable pre-filter; a micro particle filter; and a deodorising filter to reduce unpleasant smells as well as volatile organic compounds like formaldehyde.
The Smart Indicator light delivers a real-time reading of indoor particulate levels in the home, emitting colours based on detected indoor particulate levels nearby.
The four new AAFA certified asthma and allergy friendly LG air purifiers are:
LG SIGNATURE Air Purifier Model AM501YWM1 (US$1,699), an all-in-one air purifier and humidifier which helps eliminate particles within a 318 ft2 radius. It features a semi-permanent filter system that can be washed and reused for up to 10 years. 
LG PuriCare Tower Model AS401WWA ($499) reduces dust and other airborne particles in rooms up to 218 ft2. 
LG PuriCare Round Console models AS401VSA0 and AS401VGA1 (both $349) offer coverage of up to 248 ft2. These purifiers automatically detect airborne contaminants of 1.0 micron and smaller, and the three-stage PuriCare filtration captures airborne particles as small as 0.3 um.