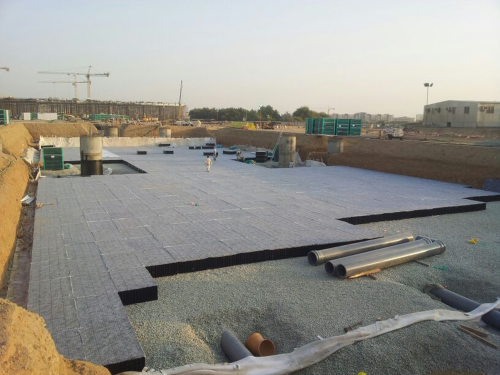 Hydro International has provided 18,000m3 of storage in seven underground tanks for the Jeddah and King Abdullah Economic City Stations which discharge to the sewer network controlled at 270l/s through a Hydro-Brake Optimum vortex flow control.   
The company also installed Geocellular storage blocks to cope with peak storm flows and high sediment content in storm water runoff.
The storage facility features perforated distribution pipes designed to prevent from entering the storage tank. Instead, they are washed through the pipe network meaning the storage tank is effectively self-cleansing requiring minimal maintenance.
"Heavy sand and silt loadings, combined with high peak rainfall events are typical of the Saudi Arabian climate.  So identifying the best technologies from around the world to address the country's needs is essential," said Hydro's Middle East sales manager, Ezzat Natsheh
The stations form part of Al Haramain Mecca to Medina rail project which links the Muslim holy cities of Medina and Mecca via King Abdullah Economic City, Rabigh, Jeddah, and King Abdulaziz International Airport.