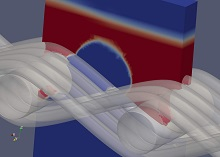 The company will present its findings on the erosion behaviour of plain dutch weave meshes and the resulting new product development, Porometric. This three dimensional mesh construction offers considerably higher porosity and air permeability while at the same time almost halving local pore velocity
The second product exhibited by GKD is its flow-optimised mesh type ODW 6 for mechanical wastewater processing. With a pore size of just 6 μm and a 3-times higher throughput rate, this single-layer mesh construction offers an alternative to sand filters.
Finally, the Solidweave business unit will be featuring the GKD-developed method for numerical simulation of the bubble point test. With this method, the mesh experts can quickly and precisely determine the largest pore size for all conventional filter meshes and can thus fulfil the most stringent of performance standards for filter media.