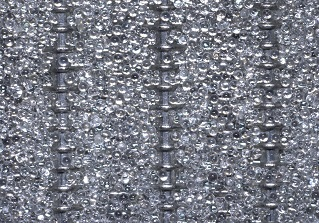 Following an experimental study on the erosion behaviour of filter media for sand control in well pipes, GKD used supplementary CFD simulations. The computer modelling showed that through higher volume porosity of the filter media, the local flow velocity in the mesh pore could be reduced.
The result was the development of a new mesh filter, called Porometric mesh, with more porosity and air permeability. This three-dimensional mesh construction maintains a constant volume flow rate, while reducing local pore velocity by up to 40%, with throughput increasing by a similar amount.
With a pore size of 150 µm, this new mesh type achieves an air permeability of 4,800 l/m²/s at a pressure of 200 Pa. In contrast, a plain weave with the same pore size only manages an air permeability level of 2,500 l/m²/s at 200 Pa. So with the same volume flow rate, the significantly more open structure of the new mesh type almost halves the local pore velocity. The key to this this performance capacity is Porometric's construction. Its three-dimensional slot-shaped structure with rectangular pores means that particles above the required cut point are quickly and reliably separated. At the same filter fineness, Porometric's higher porosity gives it a degree of permeability almost twice as high as similar mesh types.