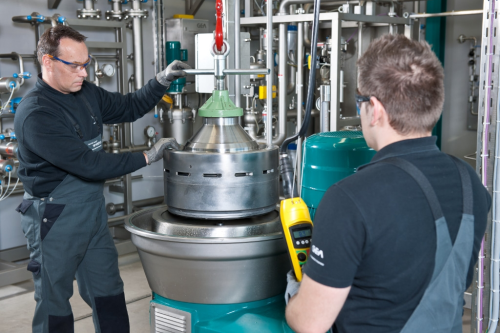 Companies using separators and decanters in their operations and looking for significant production and competitive advantages can reap immediate benefits from a comprehensive analysis of the actual condition of machines from Applied Consulting from GEA Westfalia Separator.
The analysis offers not only a real insight into the operation of individual machines but also enables the highly qualified specialist engineers to demonstrate how availability, efficiency and cost control can be optimised; opening up real opportunities for significant and measurable production advantages.
Engineering experience
With a wealth of engineering experience plus the equipment performance data and information that is only available to the original manufacturer, our optimisation team can identify potential improvements to your equipment and systems. Irrespective of the age of your centrifugation equipment or process lines and the application our team can make appropriate suggestions and propose solutions to enhance availability, efficiency and budget security.
Our team are also able to identify material wear through a thorough risk analysis assessment giving you the 'heads up' on remedial action to be taken before significant machine failure.
A detailed list of recommendations on individual maintenance programs, upgrades, modernisation methods and training accompany our suggestions for performance improvement opportunities, based on the condition and phase in the life cycle of your machine – so you can choose the most appropriate options for your operations.