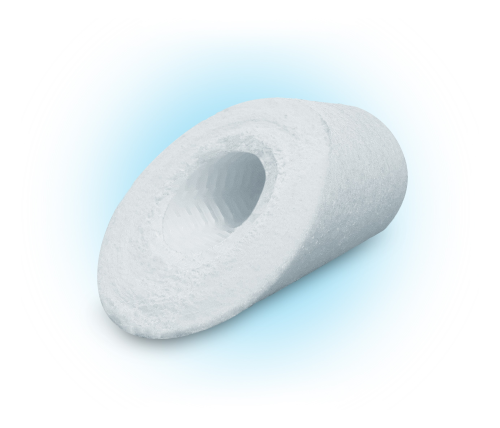 GE says that the ZCore range is available in a variety of micron ratings and lengths and can filter particles as small as 0.5 µm. The filters meet the criteria for use in USP Class VI environments and function at maximum pressure differentials ranging from 1.03 bar (15 psid) at 82°C (180°F) to 4.14 bar (60 psid) at 30°C (86°F).
ZCore filters are manufactured with GE's patented Z.Plex melt-blown, graded-density, filter technology, which feature small-diameter fibres and a three-dimensional fibre matrix design. The technology enables higher particle-removal efficiency and particle-holding capacity in high-pressure environments compared to other depth filters with similar removal efficiencies, the company says. The filters also have an injected moulded polypropylene support core for improved strength and temperature resistance. They have an all-polypropylene construction which is resistant to chemical and thermal degradation and provides no contamination.
"The graded density of the new ZCore depth filters allows larger particles to be trapped near the filter surface, while smaller particles penetrate deeper and are trapped nearer the centre of the filter. So-called depth filters without this graded-density feature really operate only as surface filters in practice," said Bill Laidlaw, global product manager, filters and membranes for GE Power & Water. "GE's […] manufacturing process continuously extrudes and thermally bonds pure polypropylene microfibres into a complex graded-density filter matrix."
The depth filters are suitable for applications such as food and beverage, chemical processing, hydrocarbon processing, microelectronics, industrial manufacturing, power generation and wastewater remediation.
All GE cartridge filters are made without wetting agents, solvents, anti-static agents or binders and are FDA-compliant for food and beverage contact.