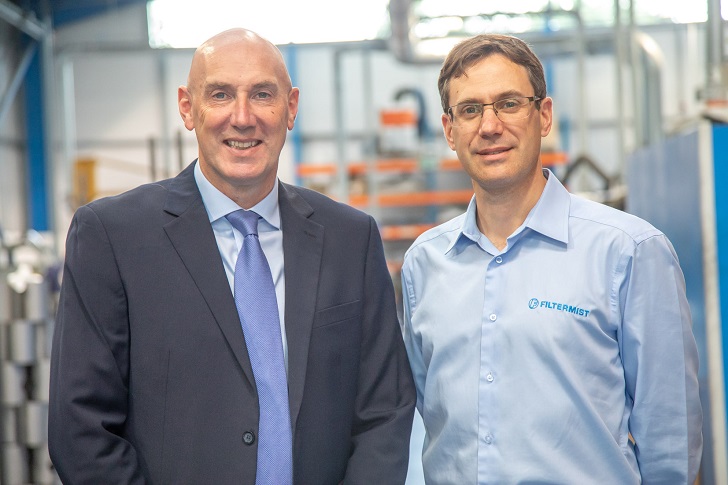 UK industrial air filtration specialist Filtermist International Ltd has purchased the assets of Carter Environmental Engineers (CEE) Ltd's air services division.
The deal includes the rights to manufacture the Carter range of dust extraction equipment, which consists of dry dust filters, booths and benches and wet collectors.
"Dust extraction is a huge growth area for our business," said James Stansfield, CEO of Filtermist International. "We acquired Dustcheck Ltd in 2017 for its expertise in manufacturing process and venting filters used in a variety of industries and this capability adds to three other companies we own that all offer a full turnkey dust extraction systems service."
Stansfield said they were confident that the Carter wet collectors will perfectly complement Filtermist's existing product range.
"Our systems companies – Cades Ltd, DCS Ltd and Multi-Fan Systems – currently source wet collectors from external suppliers so having this resource in-house will significantly bolster our offering to customers," explained Stansfield.
The Carter range of wet collectors will be rebadged as the Dustcheck CycloVent, Dustcheck NonFlam, Dustcheck-Midac and Dustcheck Auto Sludge.
"The design and technology behind the products will remain exactly as they are now…it will literally just be the product names that change. All details will be added to Dustcheck's website over the next few weeks," added Stansfield.
This is Filtermist's second acquisition of 2019. Earlier this year, Filtermist announced that it had successfully completed the acquisition of the Yorkshire-based DCS Group of Companies, a designer, supplier, installer and commissioner of fume and dust extraction systems. 
Telford-based Filtermist, which is celebrating its 50th anniversary this year, is part of the Swedish Absolent Group.