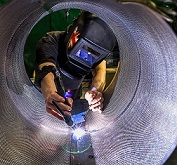 His striking image is called Hemispheres and is of an engineer welding together two hemispheres of a cylindrical screen filter at Croft's facility in the north west of the UK. The screens are critical components used in the recycling industry.
EEF is the organisation that represents the British manufacturing industry. Its annual photography competition, now in its seventh year, aims to illustrate Britain's dynamic manufacturing community and showcase the numerous original products within the sector.
Over the last five years, more than 3,000 images have been entered into the competition and Rob Watkins has won four times during this period. Rob's stunning photographs perfectly capture members of the Croft team at work, producing finished products which are shown from a never-before-seen perspective.