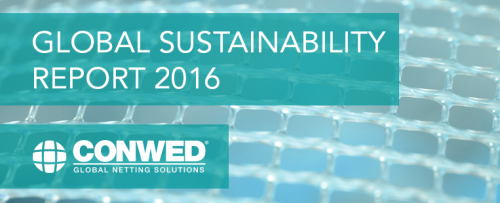 Minneapolis, Minnesota-headquartered Conwed, which has manufacturing sites in the US and Belgium, has implemented best practices at all of its locations with the objective of increasing efficiency in their day to day operations and creating netting solutions that require less material and generate less waste.
In 2009 Conwed reviewed its operations and set new sustainability goals in four major areas: carbon footprint, water consumption, cubic yards of waste and total process resin waste generated.
"We believed we needed to focus on areas we could directly impact at each of our manufacturing locations. Improving our production efficiency while continuously reducing our expenses and waste was a natural way to impact our sustainability record," explained Ivan Soltero, senior strategic marketing manager at Conwed.
Since 2009, Conwed has reduced greenhouse gas emissions by 13%, water consumption by 24%, cubic yards of waste by 79% and total process resin waste by 19%. Conwed performs ongoing water useage audits, preventive maintenance and identification of potential improvement opportunities in collaboration with manufacturing and operations teams at each location. The ultimate goal is to reduce water consumption in all of their plants to optimal levels.
"Embracing a sustainability program has had a direct impact on our business because we are focused on finding ways to do things better, more efficiently, with the least amount of waste. That surely impacts our financial performance, but it also reassures our customers that we are driven to manufacture the best plastic netting with the least amount of material and waste," said Soltero.
A copy of Conwed's Global Sustainability Report 2016 can be downloaded here