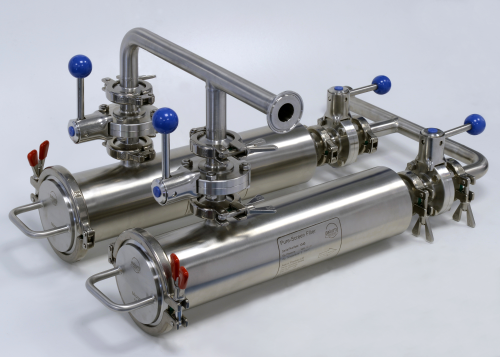 Filtration specialists, Axium Process, manufacture stainless steel filters that are customised to suit specific site or process requirements for applications ranging from pump and instrument protection to critical applications where filter failure or collapse is not an options.
Comprehensive range
Working closely with  their customers, Axium Process' engineers are able to help select the right filter from a range of stainless steel wedge wire and sintered mesh designs that are  tailored to suit a given application, flow rate and pressure.Axium's filters are used in many applications and the wedge wire design is aimed at products where smoothness and consistency are essential such as creams, emulsions, yoghurts, soft cheese and paints. All filter types do not require tools to dismantle. We have also fitted a 316 stainless steel safety clamp closure onto all our filters so that they can't be knocked or accidentally opened in order to enhance plant safety.
Robust and versatile
Delivering filtration levels between 5 micron up to 6000 micron as standard, Axium's robust and versatile pure-screen and fine-screen filter ranges are in daily use throughout the pharmaceutical, food, beverage, dairy and chemical industries. Available as 90°, in-line and straight thru designs, filters are fabricated in both standard and compact options with either 4 in or 6 in housings. All filters can be fully customised as jacketed, duplex, triplex or multiplex options and supplied with a stainless steel support frame when required.