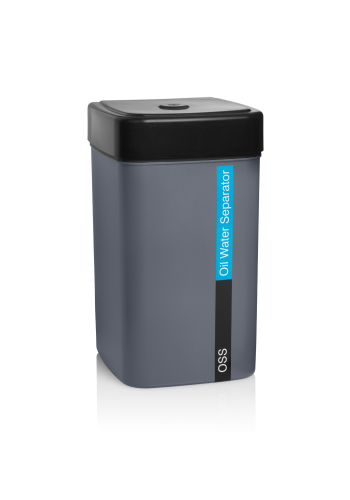 The condensate generated by oil-injected compressors, after-coolers, dryers, vessels and filters contains traces of oil, dust and moisture and must be treated to eliminate any risk to the environment − and comply with stringent environmental regulations − before it can be allowed to enter the sewage system.
With its new OSS oil-water separator, Atlas Copco says it provides a compact, clean and cost-effective answer for small compressor installations. Smaller than a shoebox, measuring just 240 mm x 140 mm, and weighing approximately 1 kg, the unit has been designed to operate with Atlas Copco's state-of-the-art GX workshop compressors.
Quick and easy to install, and constructed with 100% recyclable materials, the small OSS unit operates on a two-stage principle. Firstly, condensate enters a depressurisation chamber and undergoes pre-filtration whereby polypropylene material captures large oil droplets. In the second stage, small oil droplets are efficiently absorbed by recycled glass material. After separation, the discharge water contains oil levels below 15 parts per million (PPM), and an optional easy sampling kit is available to verify outlet concentration on a regular basis.