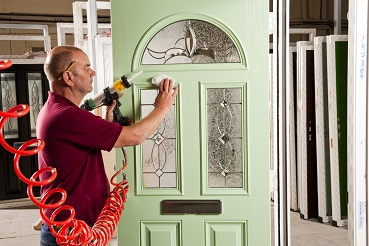 Heritage Trade Frames, which was founded in the late 1980s, has manufactured, supplied and installed over one million products in homes and offices throughout the UK. The company produces energy-certified windows at a rate of over 50,000 frames a year, in addition to composite doors, bi-folding doors and in-line patios, and its annual sales are in excess of £9 million. When the company discovered that its 10-year old compressed air system was going to be a problem in terms of future reliability, it knew it had to act. A reliable system is crucial for its main production site because a constant supply of quality compressed air is essential to the efficient operation of the company's production equipment, such as drills and other air tools, as well as complex CNC machining tasks.
Monitoring & assessment
Atlas Copco Compressors is the UK sales and service arm of the Atlas Copco Group, providing compressed air systems. Heritage Trade Frames called in Atlas Copco to carry out an iiTrak data monitoring exercise to measure the plant's air requirements and assess both the energy usage and performance of the existing compressed air system. As a result of this exercise, a GA26 VSD+ 13 bar compressor and GA22+ fixed-speed 7.5 bar compressor were installed. These compressors are an extension of the company's original GA 7–15 kW VSD+ oil-injected screw range with new models from 18–37 kW. With the expansion of the range up to 37 kW, Atlas Copco can offer technology that provides energy savings of 50%, a 13% increase in Free Air Delivery and a canopy less than half the size of traditional fixed speed compressors. In addition to expanding the GA VSD+ range, Atlas Copco has also introduced its new "condensation prevention cycle" for Variable Speed Drive compressors. Thanks to an algorithm in the Elektronikon controller of the GA VSD+, condensation in the compression oil is prevented in all circumstances, even in those where the compressor is oversized for the application and has to deal with extremely low load conditions (where the compressor is operated for less than a minute every hour). This condensation prevention cycle is another important step towards the 80% VSD ratio that Atlas Copco expects to see by 2018, since it allows compressor users to opt for a Variable Speed Drive and save 50% on their compressor's electricity bill. A similar data monitoring process was then carried out at Heritage Trade Frames' second production site. The decision was made to install a GA15 VSD+ machine with output variable from 7 to 42 l/s, together with a refrigerant dryer, filters, air receiver and oil/water separator. The installation also included a complete 40mm AIR net modular ring main. The variable speed drive (VSD) compressor range is more energy efficient because of Atlas Copco's interior permanent magnetic (iPM) motors which drive, and form the heart, of the VSD+ compressor range. This is the first time Atlas Copco has manufactured the motors for its compressors. The vertically mounted, IP66, oil-cooled, iPM motor, was specifically designed by Atlas Copco to match its screw element, and is fully enclosed, making it extremely reliable and maintenance-free. Significantly, the use of Atlas Copco's own innovative direct drive motors, which are IE4 certified to the highest levels of motor efficiency, means that the GA 7–15 VSD+ out-performs comparable fixed speed compressors even at full load. This represents a new benchmark in energy efficient compressor technology and could enable all small compressor users to eventually switch over to variable speed drive compressors in the future.
Small footprint
With the GA 7–15 VSD+ Atlas Copco has re-designed the conventional layout of a compressor. Instead of the normal space-taking horizontal design, the new compressor has a vertical layout that provides a canopy size 55% smaller than traditional compressor designs. This extremely small footprint (610 × 630 mm), allows the GA 7–15 VSD+ to be placed right on the production line. Since only two panels need to be removed for servicing, it can even be placed against a wall. As a result, plant managers are able to save valuable floor and work space, as well as easing maintenance access and installation. Heritage Trade Frames has made an annual energy saving of £10,000 following the installation of the compressed air upgrade. Managing director, Paul Culshaw said: "We were impressed by Atlas Copco's professional approach, which inspired confidence; reliable equipment that prevents stoppage of work activity for over 75 people; and the energy saving capability that matches output to demand. Current estimates indicate our annual savings to be in excess of £10,000." Commenting on the contribution that the new installations have made to his company's output, Mr. Culshaw said: "With the continuous, reliable supply of quality air that the Atlas Copco compressors provide, we have increased productivity. It is now possible to operate a semi-automatic cycle, which results in reduced manufacturing times and higher product quality in our PVC-U fabrications."