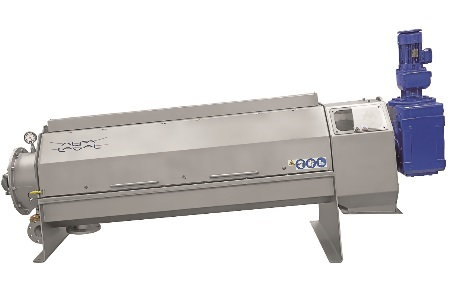 Alfa Laval's press is specifically designed for dewatering of industrial and municipal water and wastewater sludge as a way to reduce sludge volume, lowering transportation and disposal costs.
The press has extremely low power consumption, due to the direct drive gear motor and a slow rotational speed. It features an enclosed drum with inspection hatches equipped with wedge wire screens instead of perforated screens to keep maintenance to a minimum. Screen washing is done intermittently during operation. The equipment includes a sludge/polymer mixer, which can reducespolymer consumption while lessening the need for a floc tank with integral mixer.
It is possible to adjust the conveyor speed for the most efficient balance between cake solids and capacity, and counter-pressure to obtain the best solids dryness and liquid clarity. Two types of standard control systems are offered: advanced or basic control.