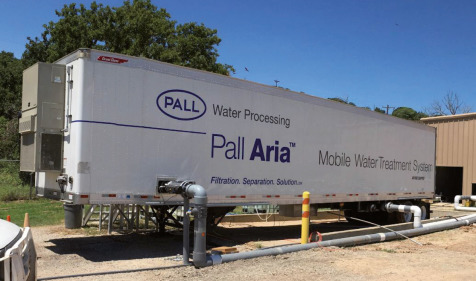 From industrial operations and power production, to the treatment and distribution of municipal water to the masses, water is arguably the most important resource on the globe. Over time, worldwide water shortages and mounting regulations have challenged municipal and industrial facilities to increasingly implement sustainable methods for efficient water treatment. When a natural disaster or mechanical malfunction occurs, the need for an adequate solution and immediate response is critical. Advancements in technology have helped mobile membrane filtration systems emerge and provide high quality water in these crisis scenarios. While it is worth noting that these systems are also a very effective long-term solution, the value proposition is deeply rooted in emergency response situations as these automated, self-contained units can be rapidly deployed and are capable of producing water on-site within hours of arrival. Regardless of the quality and source of water, as well as whether a solution is needed short- or long-term, mobile membrane filtration units have been proven as the most effective, ideal water treatment solution for use across the globe. As emergencies or supplemental capacity issues inevitably arise, it is important for plants to prepare for the unplanned. Both municipal and industrial operators need to react immediately to restore services in order to provide safe, reliable water to their customers, or meet water supply demand while abiding by regulations, respectively.
Emergency water need
In June 2016, the City of Cisco, Texas experienced heavy rains that ultimately submerged the city's water treatment facility and all of its equipment. Personnel at the plant worked around the clock to provide water to the city's 6,500 residents, which included two wholesale customers that purchased bulk water from the city for surrounding rural communities.
However, even with the efforts of the team, the plant completely ran out of water within days following the flood. The city needed to immediately identify and implement a solution to provide the residents and wholesale customers with safe, reliable water.The City of Cisco quickly selected a containerized mobile membrane system due to how quickly the trailer could be deployed and the unit's ability to meet water quality regulations. Within 72 hours of the flood, the automated water treatment trailer and technician had arrived on-site and the unit was producing water for the city hours later. With turbidity levels of the existing water reaching 50 times higher than normal, the unit was able to produce water that met drinking standards. The system was staffed continuously in the first few weeks in order to get control over raw water, install a temporary chlorination system to further treat water and eventually deploy a more permanent chlorine system. The water remained under boil water notice for nearly three weeks due to the vast infrastructure repair that needed to be completed, such as repairing every electrical and control panel, restoring functionality of tanks and pumps, and rebuilding pre-treatment chemical feeds from scratch. The speed of this deployment, which was made possible due to the mobile water treatment trailer, was critical, as within hours of arriving on-site, the trailer was producing safe, reliable water for the City of Cisco and its residents.
Quick response
Another example where the speed of deployment was crucial involves a gold mining plant in Peru, where in 2015 an operator found that the plant's conventional treatment, consisting of neutralized and treated leaching water, could not provide a stable and high-quality stream of water for mining production. The plant required a quick, reliable wastewater solution to not only meet peak demand in the summer months, but also treat the mine leachate and prevent the existing reverse osmosis membrane from collapsing or releasing contaminated water into the environment. Peru's strict laws and regulations and the geographical nature and environment of the Peruvian plant created additional challenges.
Quick recovery rate
Plant operators needed a solution that would be able to operate with a quick delivery rate and small footprint for the plant, as well as meet Peru's water regulation standards while preventing harm to the environment. Ultimately, a mobile water treatment was chosen as the ideal solution. It treated the mine leachate, guaranteed the availability of a quality water source, and increased overall capacity. After months of utilization following the implementation, the system continued to produce high quality water that met specifications and protected the downstream RO membranes. The fully integrated mobile unit allowed the gold mining plant to rapidly meet water supply demand and remove the colloids, algae, and all particulate matter from the leachate. The membrane system kept the plant online and was a perfect solution to address the challenges of Peru's strict regulations and the gold mine's focus on social impact. While it is impossible to know when natural disasters, water shortages, or plant malfunctions may occur, there are several steps that facilities can take to ensure that they are able to act quickly, efficiently, and intelligently when an unexpected event does occur. Industrial and municipal plants alike should explore mobile systems to ensure continuous operation, and develop and practice emergency operation plans and procedures to respond and recover from natural or man-made disasters. From a municipal water supply perspective, the following actions should be considered. Since there is a possibility that the primary source of water will be unavailable or used for other purposes, alternate fresh water feeds and reuse options should be investigated. It is also essential that vulnerabilities in the existing water treatment process be identified and a risk mitigation strategy be formulated. As a final measure, it is important to examine available water treatment technologies that, if required, can be rapidly deployed, easily installed, and meet the required quality standards. Whether facing emergency drinking water shortages, facility maintenance, or plant downtime, facilities may not have the luxury of time to identify a new solution, technology, or system to solve the particular situation at hand. The best way to respond to a crisis is by having a solution plan already in place. Mobile systems provide an economical solution that can be deployed, installed, and operated quickly to ensure a sustainable supply of high quality water.