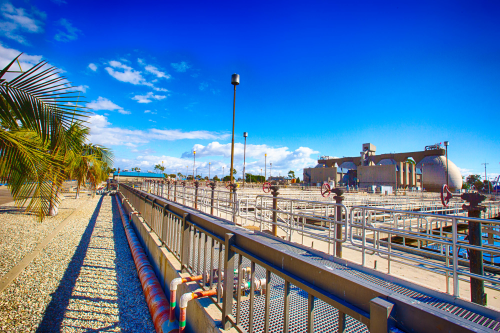 Xylem's Wedeco MiPRO photo Advanced Oxidation Process (AOP) will ensure that the City of Los Angeles Terminal Island Water Reclamation Plant complies with California's stringent groundwater recharge regulations for indirect potable reuse in the safest and most cost-effective way possible.
Earlier this year California's state water board approved emergency drought regulations that aim to slash water use in urban areas by 25%. The measures call for cities and water agencies to reduce water usage by 8 to 36%. Water reuse is a proven approach that can help meet growing water demands, while safeguarding existing water supplies. Water reuse technology produces high-quality water at a lower life-cycle cost than developing a new water supply, and delivers a resilient, drought-resistant water source with valuable economic and environmental benefits.
Final barrier
Xylem's Wedeco MiPRO photo AOP solution will be installed as a final barrier against pathogens and contaminants that cannot be removed by other technologies. The MiPRO photo system is part of an expansion of the plant at the Advanced Water Purification Facility, which includes microfiltration and reverse osmosis prior to AOP. The customised solution, validated through extensive pilot-scale testing at the plant, will be the first greenfield AOP design using ultraviolet (UV) light with chlorine for indirect potable reuse.
The Terminal Island Water Reclamation Plant treats wastewater from more than 100 businesses in the heavily industrialised Los Angeles harbour area and from 130,000 residents, including the communities of Wilmington, San Pedro and a portion of Harbor City. The plant purifies tertiary effluent, producing potable water for recharging the stressed drinking water aquifers – particularly important in the face of the ongoing drought. The recycled water will be used as a barrier against seawater intrusion to protect the groundwater against increased salinity, as well as a supply to local industries.
"This application of UV with chlorine as an AOP process is a significant breakthrough in treatment to make water reuse more sustainable and cost-effective," said Keel Robinson, North America Water Reuse Leader for Xylem.
"The use of UV with chlorine for AOP will enable the Terminal Island Water Reclamation Plant to utilise their existing chlorination facility without having to add any new chemicals, and it will significantly reduce the life-cycle cost relative to the other types of AOP, such as UV with hydrogen peroxide."
Los Angeles Sanitation is the owner and operator of the Terminal Island Water Reclamation Plant that will provide 12 million gallons per day of highly, purified water for beneficial use to reduce dependency on imported potable water supplies.
Phase two
Construction for the second phase expansion was planned to begin in 2015 with operation expected to commence in 2017.
"Los Angeles Sanitation is pleased to partner with Xylem as we continue to identify ways to increase recycled water capacity at our water reclamation plants. This effort will allow us to contribute more to groundwater recharge in the face of a historic drought," commented Traci Minamide, Chief Operating Officer. "The innovative technology-advanced oxidation process-aids in our commitment as environmental stewards to protect our most precious resource."
Additionally, Xylem will be supplying a Sanitaire aeration system to the Terminal Island Water Reclamation Plant for enhancing the performance of the existing wastewater biological treatment system. The Sanitaire fine bubble aeration grids will consist of Silver Series II membrane disc diffusers and ceramic disc diffusers to enhance oxygen transfer, reduce energy costs, and improve the quality of the water feeding the Advanced Water Purification Facility. Xylem has now provided fine bubble diffused aeration to all the LA Sanitation's wastewater treatment plants. •