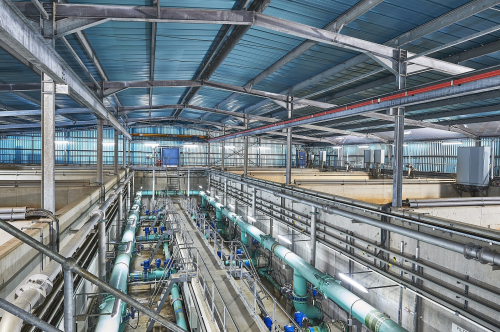 The Little Eaton Water Treatment Works in Derbyshire, UK supplies clean drinking water to the growing community in Derby city's North-West area. Over time, it became clear that the site's rapid gravity filters process required a significant overhaul in order to improve operational efficiency, which would require the replacement of its existing blower installation. Severn Trent Water has installed ZS oil-free rotary screw blowers from Atlas Copco at six of its water treatment plants in the UK. This forms part of a major infrastructure refurbishment programme, including upgrades to its rapid gravity filters (RGF) processes installations that require low pressure air for sand de-scouring duties.
The method
Taking up less land than other treatment processes, a combination of rapid gravity filters and disinfection has become a widely used method of purifying a drinking water supply. The process involves water pre-treatment in flocculation tanks to bulk up impurities and particle size. Following this, the untreated water is passed through several layers of coarse grained sand and anthracite to trap all particulates. The saturated filters are then backwashed several times a day to clean the media with a combination of treated water and low pressure air to de-scour the sand filters. Such a continuous process requires an uninterrupted supply of oil-free compressed air at 0.5 bar and relies on the efficiency of low pressure blowers to maintain the required flow rate and pressure.
Benefits
The ZS blower units are comprised of precision timing gears to maintain minute clearances between two intermeshing dry screw elements that never touch. No lubrication is required in the compression space and seals stop any rotor bearing oil from entering the compression chamber. Intake air is compressed between the rotors and their housing and 100% oil and pulsation free air is delivered at an output rate of up to 3325 m3h dependent upon process demand.
Severn Trent Water chose MWH as one of the design and construct contractors for its AMP6 framework. MWH will work alongside Severn Trent Water's own staff to manage the operation, supporting the delivery of its programme of work throughout AMP6; which runs until March 2020. Apart from Little Eaton, Cooper Freer has installed four Atlas Copco 90 kW ZS variable speed blowers to replace all the existing lobe blower technology at Severn Trent Water's Worcester treatment plant.