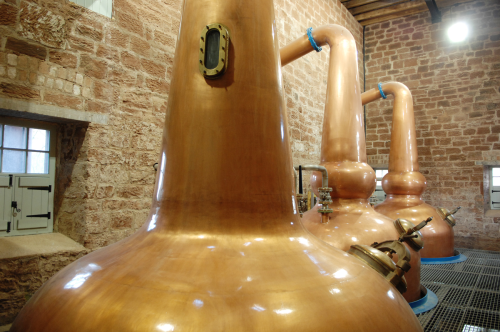 Sirion midi recovery RO
Municipal water supplies these days can be switched from one source to another, so quality can vary. The Annandale distillery in Scotland is fortunate in having its own borehole, making it independent of the mains and ensuring consistent quality long into the future.
However, the distillery, which was bought by Professor David Thomson, a scientist, and Teresa Church, a nutritionist in 2011, also needs high purity water to feed the boiler that produces the steam to drive the stills. Even more importantly, further into the process it dilutes the cask strength spirit from about 65% ABV to about 40% ABV for bottling.
Both applications – boiler feed and spirit reduction – need high quality water. Water for the boiler must be treated to prevent scaling and corrosion, whilst the spirit reduction water must not impart taste, colour or odor to Annandale's single malt whisky. Was it a practicable option to use the borehole water for these applications?
Grain and barley, together with water are mixed (mashed) in a mash tun.
Consistent source Veolia carried out a detailed economic evaluation, which confirmed that treating the borehole water would be the most attractive option, avoiding the cost of installing a mains supply and ensuring a consistent source quality.
The distillery needs up to 750 litres of high purity water per hour and Veolia's solution was to filter and soften approximately 1000 litres per hour of the borehole water prior to demineralisation in a Sirion Maxi 14-1000 reverse osmosis plant. This removes 99% of the natural organic matter that causes taste, colour and odour, and 95% of dissolved impurities, easily meeting the target of less than 10mg/l of dissolved salts required for spirit reduction water.
The impurities are concentrated into a waste stream of roughly 25% of the reverse osmosis feed. About 550 litres per hour of the treated water, or permeate, is used directly for spirit reduction whilst the remaining 200 litres per hour is fed to the boiler as make-up water.
To ensure reliable, efficient boiler operation and minimise fuel consumption, the boiler make-up water is conditioned by the addition of a custom-formulated Veolia Hydrex chemical that combines oxygen removal and pH control for corrosion prevention together with scale inhibition.
Copper stills distill liquids by heating and cooling to condense the vapour.
Wastewater volume Conscious of its water footprint, Annandale wanted to reduce the wastewater volume from the plant to cut discharge costs and conserve the borehole source. Veolia has an online calculator called RecoBLUE and this indicated that about 50% of the wastewater could be recovered cost-effectively.
To achieve this, the 250 litres per hour of wastewater from the Sirion Maxi 14-1000 is collected and treated by a small Sirion recovery reverse osmosis reducing the discharge volume by 125 litres per hour. The permeate produced by the Sirion Midi is then returned to the front end of the treatment train, saving some 125 litres per hour in raw borehole water abstraction.
The result is the Annandale distillery is self-sufficient in water, has made cost savings and has adopted a sustainable approach that minimizes its water and carbon footprints.
Annandale was closed in 1920 by its then owner, Johnnie Walker, and used as a porridge oats mill until 2007 when it was bought by the Dumfries-born couple who began a three year "labor of love" to fulfil a long held ambition to re-establish the distillery.
In December 2014, with the listed building painstakingly refurbished, the first of the American white oak bourbon casks was filled and put into the distillery's bonded store, where it will mature for a minimum of ten years. Annandale was once again a member of that select group of only half a dozen lowland malt distilleries.