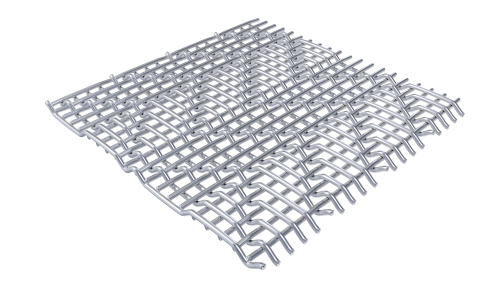 Volumetric Mesh by GKD – GEBR. KUFFERATH AG has been acknowledged as one of 2013's leading innovative product developments by the American Filtration & Separation Society (AFS).
German-based GKD received the prestigious AFS New Product Award in the category Filter Media at the Oil & Gas and Chemical Processing Conference in Houston, Texas.
The novel filter mesh won over the jury by its 'outstandingly high volume porosity, which minimises pressure drop during the filtration process while at the same time optimising particle retention'. The award is a further plaudit for Volumetric Mesh. This technical woven wire mesh by GKD has already proven its worth in countless applications. Special weaving techniques make it possible, while maintaining the same wire diameter, to achieve up to 70% more volume porosity in comparison to conventional square meshes.
At the same time, the particle retention rate is significantly higher. The asymmetrically arranged pores, which vary widely in size, give Volumetric Mesh much broader particle separation efficiency, which increases the total effectiveness of the filtration process and can be custom configured to the specific field of application. GKD's special technical mesh thus combines the properties of filter fleece and previous standard mesh types.
Pressure drop reduction of up to 60% and defined separation efficiency give this award-winning mesh type an enormous advantage, for example, in the filtration of hot gases or liquids.  
Why not sign up here tinyurl.com/mnc7d6p  &  receive  unrestricted access to the content on Filtration+Separation. It will only take a few moments, and you will gain access to the digital edition of the magazine as well as a whole host of special features, news and more.