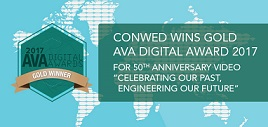 The AVA Awards is an international competition that recognizes excellence by creative professionals responsible for the planning, concept, direction, design and production of digital communication. Conwed participated in the Motion Graphics Company Overview category, with a three-minute video that takes the viewer through the history of the company, its highlights and its original approach to product development.
Launched in January 2016 and distributed through different media, the video entitled Celebrating our Past, Engineering our Future, portrays netting development at Conwed in a lighthearted, amusing way. "We wanted to share our netting history since 1966 and showcase our company's achievements through the last five decades, but in an upbeat, entertaining way", said Ivan Soltero, senior strategic marketing manager at Conwed. "Could you have predicted an entire world of netting? That's how our 50th anniversary video takes us on a unique journey". 
This year there were 2,500 entries for the AVA Digital Awards, from across the United States, Canada, and 16 other countries.