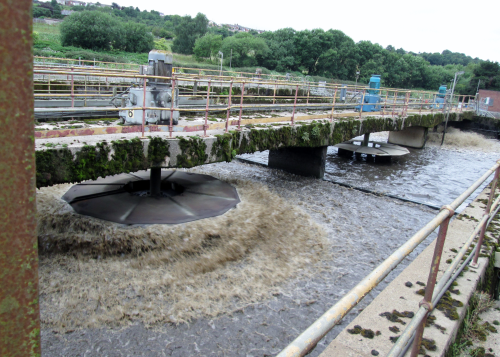 Announcing the installation of Mapal Green Energy's Floating Fine Bubble Aeration (FFBA) system at its Horwich activated sludge plant, United Utilities said that it is upgrading its current installation with new equipment which is expected to be significantly more energy efficient.
The current plant comprises two biological reactors with a capacity of 3900 litres/hr. The existing installation of fixed mechanical aerators will be replaced with 16 floating fine bubble units.
Initial forecasts suggests that Mapal's FFBA system is expected to deliver the same or improved process performance at up to 40% less power than is currently consumed, saving a possible 308 MWh of electricity per year. The project also includes new dissolved oxygen controls.
Dale Walker Senior Area Engineering Manager, United Utilities commented, "The system will provide a number of benefits in addition to attractive power savings and may provide a financially viable lower cost solution compared to traditional FBDA installations for small to medium sized surface aeration plants. The system can be retrofitted to existing plants and installed without requiring major shutdowns of the existing plant. The equipment is also readily accessible for maintenance purposes".
"The UU project team has worked closely with Mapal Green Energy's engineers over the last few months to finalise the design and secure funding. We have found Mapal Green Energy to be very responsive and customer focused".
"The system will go live in August and we are looking forward to working with Mapal to maximise the benefits we can achieve with this new plant."
Mapal UK sales manager, Andy Carling, added: "Horwich will be the largest FFBA installation in the UK and this is the latest vote of confidence in our technology solution. Our FFBA units have been extensively tested and we are confident we will deliver important energy savings and easier maintenance, as our installation has no moving parts in the wastewater processing tank."