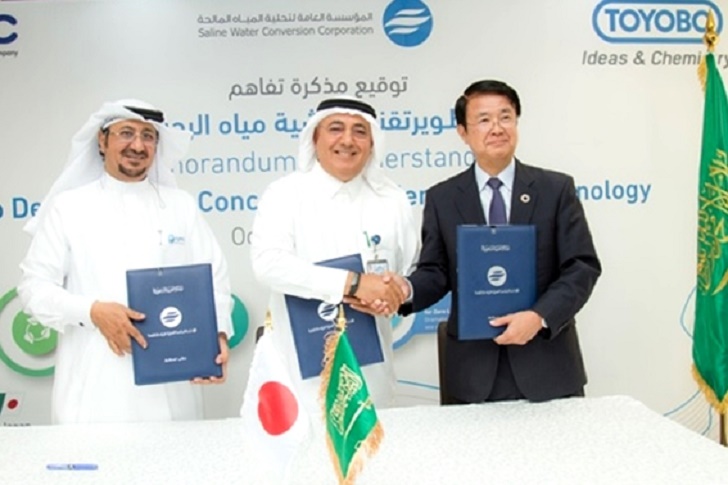 Japan's Toyobo Co Ltd and Saudi Arabia's Saline Water Conversion Corporation (SWCC) have signed a memorandum of understanding (MoU) to jointly pilot test a new brine concentration (BC) membrane technology that uses concentrated brine discharged by seawater desalination plants.
Along with Toyobo's consolidated subsidiary Arabian Japanese Membrane Company LLC (AJMC), the companies aim to put into practical use a brine concentration (BC) membrane technology for treating highly concentrated brine.
The BC membrane, which is based on Toyobo's hollow fibre RO technology, is capable of separating concentrated brine discharged from seawater desalination plants into diluted seawater and highly concentrated brine. Using diluted seawater for desalination again will help make more fresh water, while the process of evaporation and crystallization is expected to collect useful substances from the highly concentrated brine. Toyobo says that the BC membrane technology will therefore boost efforts to fully reuse concentrated brine from desalination plants.
Toyobo, SWCC and AJMC will shortly start operating a pilot test unit at SWCC's seawater desalination plant in Al Jubail, Saudi Arabia. The three companies aim to put the technology to practical use as soon as possible by understanding the membrane's basic properties and building expertise in the operation of the equipment.