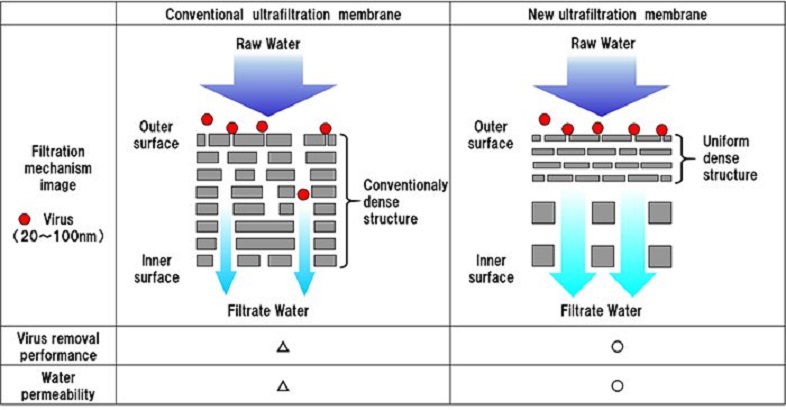 Toray Industries has developed a new polyvinylidene fluoride (PVDF) ultrafiltration (UF) membrane with a high virus removal rate and high water permeability for water treatment.
UF membranes which enhance pathogenic virus removal and water permeability without reducing safety or increasing costs have been difficult to achieve. The reduction of pore diameters to remove viruses makes membranes highly resistant, resulting in decreased water permeability.
Toray used phase separation control technology to create a uniformly dense structure alongside its hollow fibre membrane technology. It minimised coarse voids exceeding 100 nm through which viruses can easily pass by laminating layers which have homogeneous pore size distribution to create a uniform dense structure without coarse voids. This made it possible to create a thinner dense structure showing 99.99% removal of the Essherichia coli phage MS2 with a diameter of around 27 nm.
Dense structure increases resistance and impedes water flow, so Toray used its hollow fibre membrane technology to create a thin, uniformly dense structure. This achieved good virus removal and water permeability by increasing porosity in the whole membrane except for the uniform dense structure.