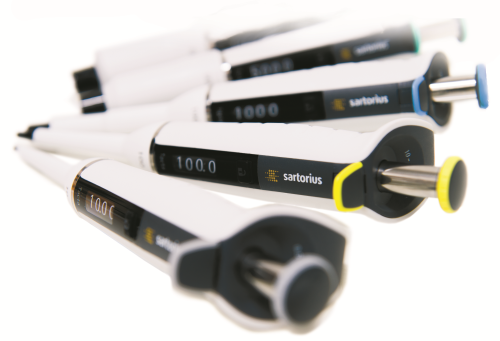 Sartorius says Tacta meets the most demanding pipetting requirements, delivering consistent and accurate results. The pipettes are available in a range of volumes from 0.1 to 10,000 µl in single channel models, and from 0.5 to 300 µl in multichannel models.
Tacta's ergonomic design enables low pipetting and tip ejection forces that reduce the risk of Work Related Upper Limb Disorder (WRULD). Sartorius says the unique handle and finger hook design provides reliable and accurate results during lengthy pipetting sessions.
The new Sartorius Optiject levered tip ejection technology is said to enable controlled and smooth tip ejection with minimum force. The Optiload feature, with spring-loaded tip cones in both single and multi-channel models, ensures tip loading with reliable sealing and minimal force.
In addition, Sartorius says the new Optilock system provides flexible volume adjustment and locking functionalities, and prevents accidental volume changes during pipetting. Tacta has a large, clear 4-digit display, which makes the volume easy to read even when the pipette is at an angle. Furthermore, Tacta is easy to adjust for a variety of liquids, using a simple adjustment key.
Sartorius says Tacta pipettes are quick and easy to clean. They can also be autoclaved without disassembly and are highly resistant to exposure to UV and chemicals. Additionally, Safe-Cone Filters are available for all Tacta models with volumes of more than 10 μL and offer a cost-effective method to reduce contamination. The unique Safe-Cone Filter ejector enables easy removal of used or contaminated filters without human contact.