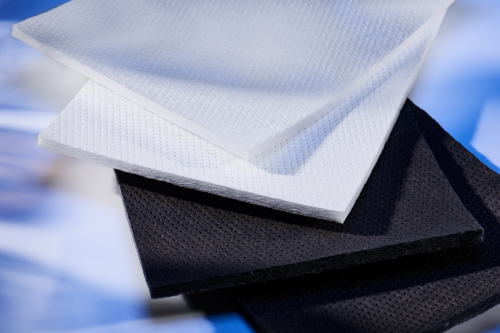 At this year's Techtextil exhibition, at Frankfurt am Main, 9-12 May, Sandler AG invites visitors to a selection of nonwovens in Hall 3, Stand No. D54. On show will be the company's range of high-tech materials for acoustic insulation in the home and the office. Sandler nonwovens for various applications aim to make  homes more comfortable. Fibercomfort insulation materials are applied in the roof and in walls, providing for  rooms at a pleasant temperature and at the same time helping to conserve energy
In the home and office
In partition walls sound-insulating nonwovens create optimum conversational acoustics. These textile solutions also provide for a quieter every-day worklife in office partitions, additionally functioning as a design feature for individual room design.
The product range offers acoustic nonwoven for applications including: soft and voluminous or self-supporting and compact; with an open-pore surface of smoothed; white, black or a marble-like shade in colour; these textiles can be adapted to customer requirements. They can also be finished with print or embossed motifs or laminated with different fabrics. Filter media provide clean air to breath for indoor air quality at home as well as in industrial buildings. Sandler's latest development for this application are enAIRsave pocket filter media.
On the road
Sandler nonwovens aim to give a comfortable drive, particularly on long trips in the automobile, in bus, train or the working vehicle at the construction site. Acoustical absorbers dampen engine and driving noise, providing for an acceptable noise level. New sawasorb advanced nonwovens achieve this level of sound insulation at low product thickness. They are therefore suited for narrow installation spaces and, using fewer raw material, offer a more sustainable product solution.
Lightweight sawasorb premium exterior shadow absorber nonwovens are acoustically efficient at low product thicknessand feature hydro- and oleophobic properties particularly for exterior applications in wheel house liners or underride guards. sawaloom nonwovens for seat upholstery in vehicles provide a comfortable interior.
Being air-permeable and moisture resistant, these materials contribute to a micro-climate of the seat. The latest development in this product line features a particularly soft, bulky and foam-like quality. Quilted with leather, this nonwoven produces an especially pronounced 3D-quilt-look.