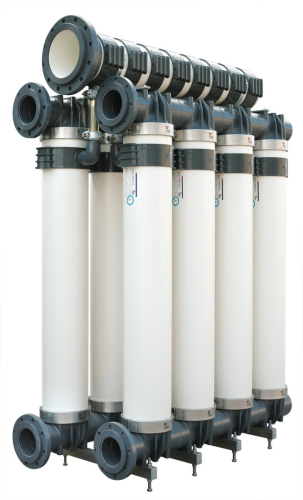 German ultrafiltration specialists inge watertechnologies AG have been producing 'dizzer' ultrafiltration modules for the Dalian refinery since 2005, providing preteatment for reverse osmosis. This year, the capacity of the plant was increased to a total of 36,500 cubic meters a day. Dalian has chosen to deploy the 'T-Rack' technology from inge watertechnologies. The rack design has been optimized to provide radical improvements over conventional systems in regard to both the technical and economical aspects of module installation. The dizzer ultrafiltration modules are tightly packed together in the T-Rack cutting the total capital costs of the ultrafiltration system by at least five percent.
Bruno Steis, inge's Chief Executive Officer said: "News of an order of this magnitude spreads fast in China. Anyone who knows the Chinese market understands how hard it is for Western companies to gain a firm foothold here. So the fact that – after four years of trouble-free operation – the operator of a petrochemical plant has chosen our technology to increase the water treatment capacity of its refinery in Dalian almost fivefold is just about the best possible proof you could ask for that our membrane lives up to its promises."
The proven resilience of the ultrafiltration membrane and the efficiency of the T-Rack have enabled inge watertechnologies to acquire projects in China including the treatment of waste water at Beijing Capital Airport and Hongyanhe Nuclear Power Plant.