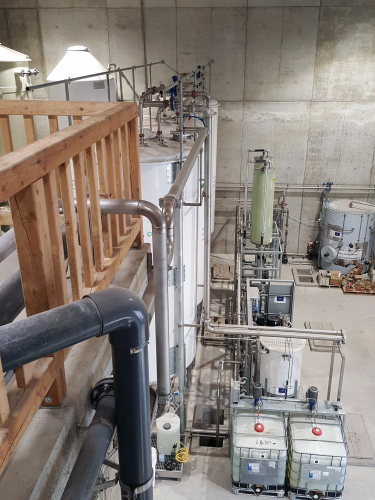 The VSEP system takes the effluent from an anaerobic digester and transforms it into clean water which can either be reused or safely discharged to the environment. The project was implemented with the assistance of OB Impianti, New Logic's distribution partner in Northern Italy.
VSEP's patented vibratory shear mechanism coupled with an innovative filter pack design means it can create clear permeate from water heavily laden with biological material like cow manure.
The Wipptal project takes cow manure from more than three dozen local farmers. The liquid manure is transported to the treatment facility where more than 60% of it is transformed into clean water, while the remainder is turned into concentrated organic fertilizer. The only pretreatment between the digester and the VSEP is a 100 micron screening device to remove large particles from the feed material.
"Digesters are great at making green power and reducing contaminant levels in the waste, but in most cases, further treatment of the liquid effluent is still necessary. Many have tried to treat digester effluent with standard spiral-wound reverse osmosis membrane systems only to find that it's incredibly difficult, if not impossible," said New Logic CEO Greg Johnson. "That's why VSEP is a perfect fit for digester effluent treatment: you get the reverse osmosis separation you desire, but deployed in a robust system designed to tackle the world's toughest applications."
OB Impianti and New Logic are currently working on two additional installations in Europe.