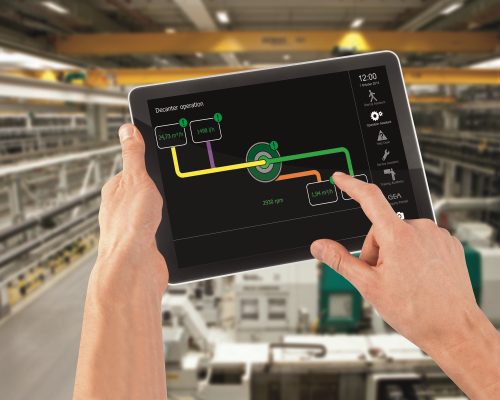 The new control generation GEA Westfalia Separator IO reduces complexity and focuses on user-friendliness, the company claims.
''The initial consideration when developing the human machine interface was not what the implemented logical controller or the centrifuge are able to do,'' said a spokesman for the company. ''Instead, the focus was on what the user needs, either the operator, the commissioner or the company's own service engineer. Who needs what information and functionalities in which situation and what is not required, or in short: user-friendliness.''
This was the aim of the developers at the German business when they started to develop the new IO control.
''For the customer, this has enormous benefits: operating personnel are quickly able to understand and handle the control units of the centrifuge, the familiarisation is relatively short,'' said the spokesman. ''This increases flexibility in production. The reliability of the production processes also improves because, if the system only displays what the user needs, the error potential declines automatically. The equation is simple: the fewer the buttons, the lower the probability to hit the wrong one''
The company is anxious to point out that this does not mean that the new generation of control units has less functionality. On the contrary, IO offers much than today`s control units. It is the user guidance facility which has been consistently reduced to the essentials to make sure that the user is not consistently overloaded with useless options or information. The benefit for the customer is that the wide range of functionalities is now available in a much more intuitive manner.
The new operating system will be initially used for the CF decanter series of GEA Westfalia Separator. The process of changing over to cover all products is expected to be completed by mid-2014.
Like this story and want to read others similar to it? Go here tinyurl.com/mnc7d6p to receive unrestricted Free access to the content on Filtration+Separation.  Joining will only take a few minutes, and you will gain access to the digital edition of the title's magazine as well as a package of special features, news and much more.