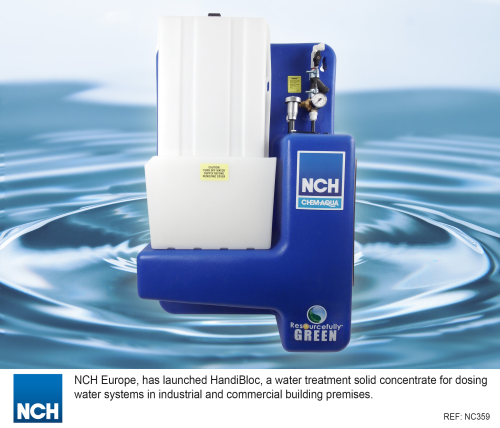 NCH says HandiBlock is a safer, greener and more economical alternative to liquid treatments, designed for cooling tower and boiler systems that can be prone to corrosion, mineral scale build-up, deposition and microbiological contamination. Its benefits are said to be most striking in large commercial buildings, offices, hospitals and industrial manufacturing facilities.
HandiBloc is claimed to be an ideal choice for systems that have a make-up rate over 24m3/day. The blocks are dissolved in HandiFeed SBS 500 or 750 block feeders that can take four blocks at a time. The simple top-up arrangement means that site operators do not have to get involved in replenishing the chemical stock.
The feeders feature a unique dissolution system using mains water, which produces a consistent concentration of chemical in the reservoir over the duration of the block. The addition of a manifold valve design means that a single feeder can dose two or more separate systems simultaneously. This is said to result in savings on setup costs and a better return on investment.
Facilities using HandiBloc will be better able to comply with requirements for the Control of Substances Hazardous to Health (COSHH). When dissolved in the feeder, the typical concentration of the solid block is between 1 and 2% — up to 20 times less than liquid products — classifying HandiBloc as non-hazardous.