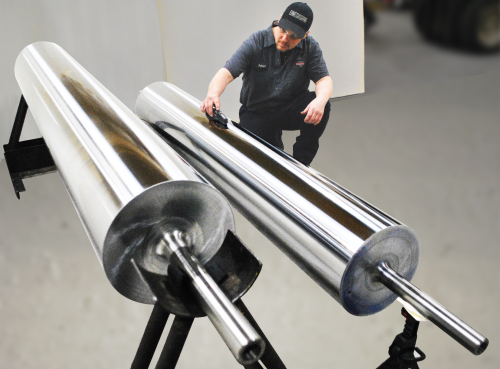 The Menges Roller Company, which makes thermal rollers used in the production of filtration media, has made a substantial expansion of its product offering after going into partnership with two companies.
''We work with many geosynthetic and non-woven fabrics companies,'' said Jeffrey Awe, marketing director for Menges Roller, which is based in Illinois, United States.
''Our industrial rollers are large, liquid-filled, and capable of achieving 400°F, or cooling temps to below freezing.
''We make outstanding rollers, and now we are partnering with Paratherm Corporation to sell their thermal transfer fluid,which will flow through our rollers.''
In addition he confimed that Menges Roller will also be now selling thermal fluid chillers and heating units from Delta T Systems.
''This represents a substantial expansion of product offerings for Menges Roller, and helps plants involved in plastic and paper processing lean on a single source for all their film and sheet heating and cooling needs,'' he said.
''Heat transfer rollers and chill rollers have become increasingly important in plants producing thin films, membranes, geosynthetic compounds, and high-tech non-woven media.''
Why not sign up here tinyurl.com/mnc7d6p  & receive unrestricted access to the content on Filtration+Separation.It will only take a few moments, and you will gain access to the digital edition of the magazine as well as a whole host of special features, news and more.