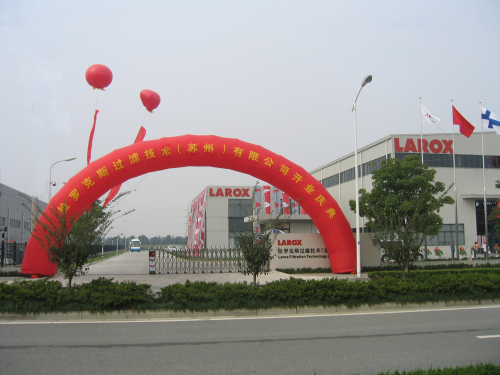 The production plant is located in Suzhou Industrial Park in Jiangsu province near Shanghai. "This is a very good location close to many customers, suppliers and skilled labour, with well developed logistic facilities," said Su Xugui, managing director of Larox China. Thirty new employees have been recruited to the China office to support the existing 15 Larox China employees and the global Larox team.
Speaking at the opening ceremony, Topi Karppanen, president and CEO of Larox Corp, said: "China is a very important market for us, and we want to service our Chinese customers in the best possible way. Larox has been represented for many years in China by its local agent Filterox, but opening a subsidiary demonstrates that Larox really has a long-term commitment in China. Our presence in China enables us [to] respond better to customers' needs, monitor better market developments and emerge with new applications."
"China is facing increasing pressure to improve its industry's energy efficiency. There are ambitious targets and programs aimed at reducing energy consumption and emissions. This drives demand for efficient filtration technology. Larox is very well positioned to offer competitive solutions to help our customers reduce costs, consume less energy and improve process performance in many ways," added Karppanen.