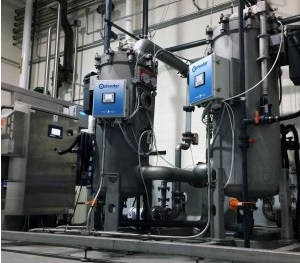 The NSF 61-approved equipment, designed for beverage water pre-reverse osmosis (RO) filtration and UV disinfection, utilises two Defender Regenerative Media Filters (RMF), dual greendrive™ VFD systems, coupled with an ETS-UV chamber and NEMA 4X integrated control solution.
The Defenders filters are capable of removing particles down to 1 micron in size and filtering 550 gpm. They are said to significantly reduce water consumption by eliminating backwash and also offer energy savings within a small, space saving footprint.
The Defender RMFs replace a traditional sand bed filtration system and are projected to save Krier Foods in excess of 1.2 million gallons of backwash water per year. They are also expected to reduce RO system downtime by 50% and will take up half of the footprint of the original sand bed filtration system.
The ETS-UV unit is an ECF-430-12 medium pressure, multiple lamp disinfection system, capable of disinfecting up to 700 gpm.
The systems are controlled via Neptune Benson's RMF System Controller, which provides detailed information on system usage, monitoring pressure and performance to ensure the highest quality water.