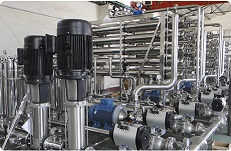 These systems are specifically designed to recover and purify caustic for reuse in food, beverage and industrial applications. Causti-COR Systems offer a cost-effective, environmentally friendly way to recover up to 95% of caustic from solutions used to clean process equipment in industrial applications.
KMS SelRO spiral wound elements allow purification of up to 20% sodium or potassium hydroxide at solution temperatures up to 70°C (160°F). Manny Singh, president of Koch Membrane Systems, said that the company has coupled the features of SelRO membranes with its process and system design knowledge to create the Causti-COR line of standard systems.
These systems recycle caustic for reuse, consume less energy, reduce material and disposal costs and lower effluent and waste discharge into the environment, thereby providing both an economic and environmental value.