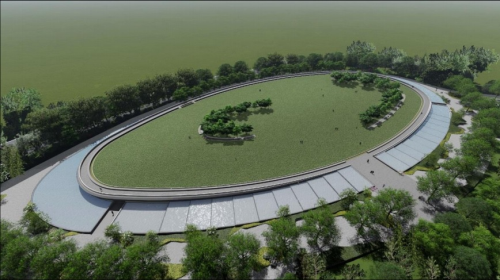 The first of its kind in Singapore, the Keppel Marina East Desalination Plant will be able to treat both seawater and freshwater. Depending on wet or dry weather conditions, water will be channelled either from the Marina Reservoir or the sea to the plant. 
Keppel Infrastructure, through its wholly-owned subsidiary Marina East Water Pte Ltd, signed the 25-year Water Purchase Agreement with PUB for the Keppel Marina East Desalination Plant on 20 January 2017. It will be constructed under the Design, Build, Own and Operate (DBOO) model and will produce 137,000 m3 (about 30 million gallons) of fresh drinking water per day. It is scheduled for completion by 2020.
The plant will be built within a 3 ha plot, less than 23 m in height and the roof will be made accessible to the public. The first to be located in the city, the plant is sited along the Eastern Coastal Park Connector Network that bridges East Coast Park and Gardens by the Bay East. It will feature a modern design that breaks away from that of conventional water treatment facilities, achieving multiple uses of land. All of the plant's water treatment equipment will be located underground, topped off by a gently sloping green lawn as its roof which can be used for community recreation. 
The plant will also incorporate environmentally friendly features such as rainwater harvesting. Rainwater collected will be used to irrigate the green roof and support the facility's water features and landscaping needs.
"Over the years, we have been making investments in desalination plants to bolster our water security," says Mr Ng Joo Hee, Chief Executive of PUB.
"As a source independent of weather, desalinated water is capable of strengthening our water supply resilience, especially against prolonged dry spells and droughts. We aim to triple its capacity to meet up to 30% of our water needs by 2060."
Desalinated water is a key pillar of Singapore's water supply, in addition to water from local catchments, imported water and NEWater (ultra-clean, high-grade reclaimed water). There are currently two desalination plants with a total capacity of 100 mgd, and another three plants in the pipeline (including the Keppel Marina East Desalination Plant).
"Not only is this the first desalination plant in Singapore capable of treating both seawater and freshwater, the plant's design also blends seamlessly into the environment, allowing the public to enjoy the green space above the plant along with the surrounding greenery,"comments Dr Ong Tiong Guan, CEO of Keppel Infrastructure.
"By challenging conventional ideas of a desalination plant and re-imagining how an infrastructure facility should look and function, Keppel Infrastructure aims to demonstrate that engineering and design excellence can go hand-in-hand as we push for sustainable urbanisation."