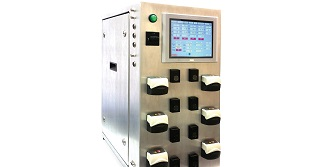 Designed for cell-culture and fermentation applications in bench-to-pilot scale reactors, the AFC 928 offers precise control over very low flow applications down to 0.05 ml/hr, allowing labs to replace their external syringe pumps with fully integrated peristaltic pumps.
The company designed the AFC 928 to marry the advanced features of the AFC 900 series bioreactor controllers with the extremely low feed rates of a syringe pump. The combination allows our users to incorporate syringe pump level feed rates into the control strategies and run a batch for weeks or months without exposing the system to contamination from refilling or replacing syringes.
ILS engineers integrated four 400A series variable speed micro pump heads and three full-size variable speed pump heads from Watson-Marlow into the control system. Users will benefit from the integration of the micro pump heads. Nutrient feeds, which would now be part of the recipe, can now be designed to cascade with pH and DO, setpoint profiles can change feed rates over time, and any part of the system can be controlled remotely through Batch Expert+ software.