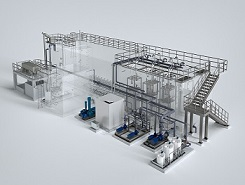 Singapore-based provider of sustainable solutions for water and energy resources, Hyflux, has launched four new models of its PoroCep Membrane Bioreactor (MBR) packaged systems.
The company will announce at WETEX Dubai 2016 that it has expanded the available configurations for the systems. Compact and energy-efficient, the systems help industries and municipalities save energy and reduce costs in their wastewater treatment efforts.
Expanding beyond the current configurations of 100, 200 and 400 cubic m per day (m3/day) in containerized and non-containerized versions, the four newly launched skidbased models in larger treatment capacities of 600, 1,000, 2,000 and 3,000 m3/day will complete the PoroCep MBR packaged systems range.
The systems incorporate Hyflux's patented PoroCep membranes made from high-density polyethylene (HDPE), a non-toxic and non-leaching material with good tensile strength, as well as strong pH and oxidation resistance.