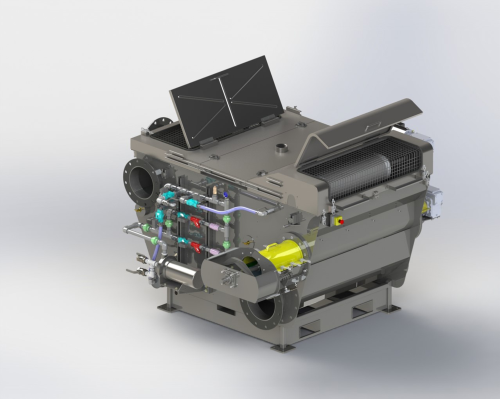 The Hydro MicroScreen offers offering wastewater treatment plants an advanced and versatile alternative to a primary clarifier at a fraction of the footprint, power use and installation costs.
It is low-energy and delivers a high level of solids removal from process water and wastewater. Maintaining efficiency even at peak design flow rates, it enables operators to meet discharge requirements and increase efficiency.
The company says that the Hydro MicroScreen is already well proven in other parts of the world and is an effective alternative approach for removing suspended solids and Biochemical Oxygen Demand (BOD).
It has a continuous rotating belt screen and effectively separates solids from influent wastewater, using just 10% of the footprint of a conventional primary clarifier and only 20% of the power.  It is easy to install, saving the construction and installation costs of building or refurbishing a primary clarifier and its small footprint frees up much-needed plant space for other uses.