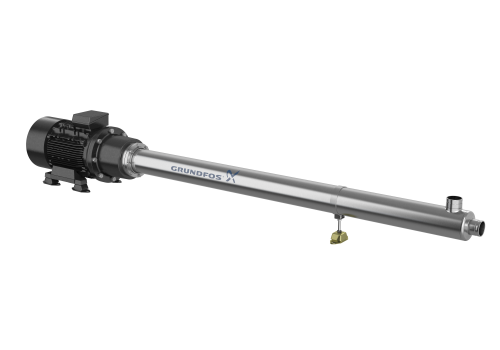 The new Grundfos BMS hs booster pumps extends the BMS booster range designed for desalination and similar applications, giving users added flexibility.
In desalination applications worldwide, high-pressure and high-speed capabilities make a real difference. The range of booster systems and standalone components now includes the new BMS hs AC high-speed booster pump with an asynchronous Siemens motor, and the BMS hp high-pressure booster pump can be specified with a motor without a built-in frequency converter.
High outlet pressure
The new BMS hs AC can create an outlet pressure of up to 82.7 bar and is designed for applications where high outlet pressure is important. It must be controlled by a variable frequency drive (VFD), but ordering the VFD from Grundfos is optional; customers can use third-party VFDs onsite for easier integration into existing systems.
The BMS hp high-pressure pump can handle inlet pressures of up to 82.7 bar and is available with a choice of Grundfos MG or MGE motors. The MGE motor features a built-in frequency converter while the MG does not.
All critical components of the BMS hs and BMS hp are made from super duplex stainless steel, making the pumps suitable for use with seawater and brackish water. Customers can access all vital components without special tools.