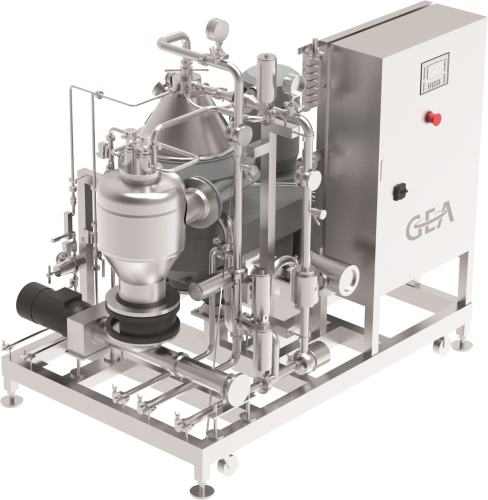 GEA says the advantages the new separator skids offer up to 10% extra beer for the same quantity of raw materials and resources, and up to 30% shorter storage tank times in the clarification and maturation process.
There are four compact skid sizes for production quantities from 1000 to 100,000 hl per annum. The skid is supplied pre-piped, fully assembled and ready to use.
Compared to the conventional process, the high-precision separation technology of these skids (which are equipped with GSC-series separators), makes beer clarification during craft beer brewing higher-yielding, more flexible, quicker and more sustainable, GEA reports. Around 5-10% more beer per batch is available for filling for the same quantity of raw material and water, and without additional load on operating costs. This is possible because the valuable liquid beer contained in the tank bottoms after fermentation remains in the brewing process by being centrifuged in the separator skid.
In addition to this, the final clarification and maturation process of the beer in the storage tank is reduced by up to 30%, as trub and coarse solids are separated from the fermented green beer in advance. This enables the craft beer brewer to offer much shorter delivery times, and brew beer more quickly – even several batches consecutively.