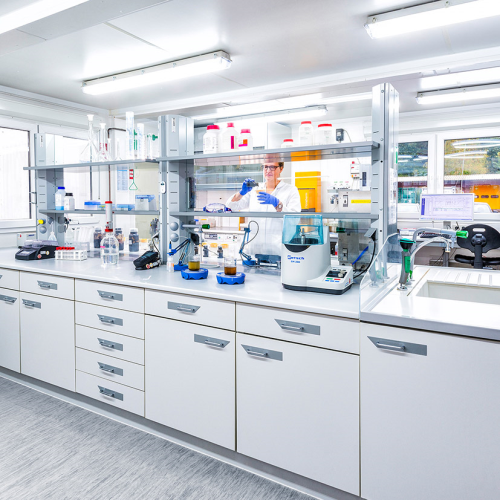 Input mass may contain substances that prevent efficient biogas production. For example, a small amount of mould is sufficient to cause such an adverse effect in silage.Ammonium, copper, zinc, drugs and disinfectants are often identified as inhibitors in slurry and manure. Even traces of these substances are detrimental to the bacteria in the digester and thus counterproductive to the digestion process. Therefore, it is necessary to identify such inhibitors before transferring the substances into the digester.
Research project
Since December 2016, Weltec has been involved in a research project to establish a new procedure that will solve this problem. The project is subsidised by the German Federal Ministry of Food and Agriculture (BMEL) via Fachagentur Nachwachsende Rohstoffe e.V. (Agency for renewable resources). In collaboration with HAWK, the Göttingen University of Applied Sciences and Art, Weltec is developing a procedure for identifying inhibitors in input substances. For this, various feedstocks are first examined in the Weltec lab in Vechta and at Hawk in Göttingen with the help of the Ankom system. This system delivers precise information on the gas production. Moreover, the change of the acid spectrum is monitored while deliberately adding inhibitors. The resulting target curves will henceforth be compared with the gas production curves of substrates. This comparison is to reveal whether the substrate contains any inhibitors.
Designed for the dairy
Previously, the aerobic four-plate inhibitor test used to be employed for identifying inhibitors. This test was designed for the dairy industry and does not reflect the conditions in the digester. Therefore, the test results are not as accurate as required. With the new anaerobic procedure, results will be available after three days. Weltec hope that the new proceedure will mean that biogas plant operators will be able to determine the quality of their input materials precisely, speedily and inexpensively.