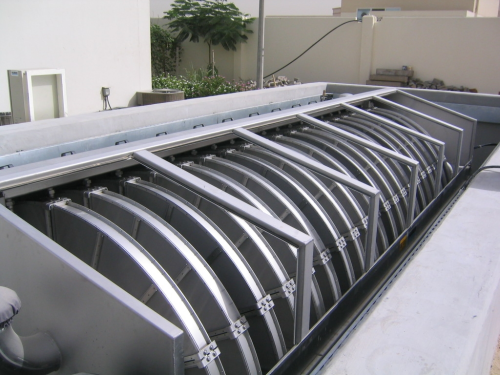 The RoDisc filter has been designed for fine screening of up to 1,500 m3/h and a mesh size as small as 10µm. The RoDisc works on the basis of the well-proven drum filter principle. The screen consists of horizontally arranged rotating filter discs, each covered with square mesh, installed on a central shaft. The rotating discs are submerged by up to 60%. Wastewater to be treated flows through the segments from inside to outside and the filtrate is discharged at the inlet end of the screen.  
During the filtration process, the filter discs remain in rest position. The solids settle by gravity on the disc surfaces, leading to gradual blinding of the square mesh by the retained solids and resulting in an increasing pressure differential. When the predefined maximum pressure differential is reached, the solids are removed from the filter surfaces by the slow rotation of the filter discs, combined with a spray nozzle bar. The removed solids are washed into a trough prior to being discharged. The filtration process runs continuously while the filter discs are being cleaned. 
John Koumoukelis, national sales manager, Industrial/Municipal for EIMCO Water Technologies said: "Secondary clarifiers are frequently unable to ensure the solids retention required, for example during storm conditions. The resulting increased oxygen demand and phosphorus load of the effluent can lead to higher wastewater fees. A secondary disc filter is a quick, efficient and economical way of achieving further separation of solids, resulting in a virtually solids-free effluent and thus the elimination of oxygen-consuming substances."  
Applications for the RoDis filter include the paper and pulp industry; treatment of circulation water, wash water and service water; treatment of process water within the food and chemical industries; and solids separation within the plastics industry.