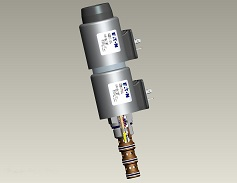 The ESV9 valves are smaller, reducing the manifold size and cost, and allow increased flexibility during installation.The valves offer control with optimized linearity, operational efficiency and low hysteresis at less than 7%. Broader ramp changes also allow greater resolution.
The size 10 ESV9 is a 4-way 3-position screw-in cartridge and is available with either a type E or F spool configuration. The E-spool type solenoid valve has all the ports closed in the de-energised position. This valve is well-suited for moderate flow applications where an actuator needs to be proportionally controlled in both directions and stopped in any position. The F spool in the de-energized condition ports 2 and 4 are open to tank with the inlet port 3 blocked. This allows the service ports to decay to tank pressure in the de-energised condition. The size 10 ESV9 valve has a rating of up to 22 litres per minute and up to 250 bar.
The company says that the ESV9 series will help provide significant up-front cost savings to customers, complementing Eaton's Cetop 3 industrial-rated, high-flow KDG4-V3 series.
Applications include construction machinery, agricultural, material handling as well as a broad range of general equipment.
Eaton will be at Hannover Messe (Germany), Hall 21, Stand B15, from 24 – 28 April.