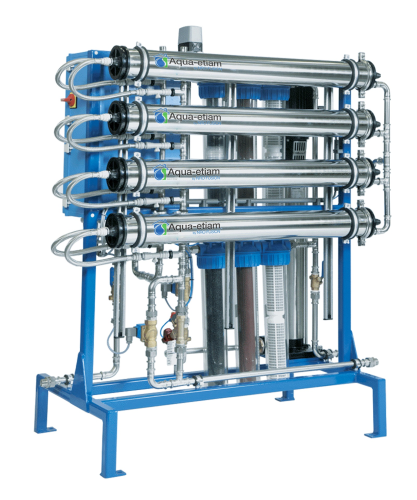 These start with the compact 'plug-and-play' under-sink NRO50U unit for 'point of use' water filtration (50 litres per hour).
For larger volumes, the NRO100 (100 litres per hour) 'point of entry' system is modular. This model can be configured and extended to suit local conditions and requirements. Depending on the desired volumes, a storage system in combination with a pressure control system may be added to offer a higher degree of user comfort and safety. Intended for a basement or utility room installation, this system provides safe, clean water throughout the entire house.
The NRO 1500 system is available for large volume installations, such as those found in apartment buildings, hotels or light industry. This multi-unit filtration system satisfies even the most demanding requirements when combined with the proper storage and pumping systems.
All three systems have a built-in monitoring system for water quality and pressure, which easily connects to additional equipment such as filters or storage systems. If the required parameters are not met, the system will alert the user/operator to take corrective action and the system will deactivate if no action is taken. Information displayed on the units themselves may also be shown on mobile devices or be shared over the internet via an M2M link.