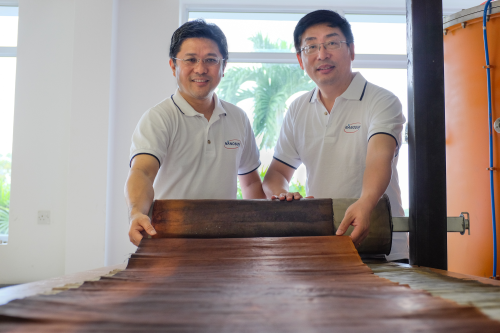 The membrane, made using 3D printing, lasts twice as long when compared to conventional membranes, is highly resistant to breakage, and has anti-bacterial and anti-biofouling properties. It also has a flow rate of at least ten times faster than current water filtration membranes.
The membrane features titanium dioxide nanotechnology to kill bacteria and to break down organic compounds in waste water with the help of sunlight or UV rays.
"With more of the world's population moving into urban cities and generating more wastewater, there is a real need for cost-effective technology," said Associate Professor Darren Sun, from NTU's School of Civil and Environmental Engineering. "Traditional polymer-based water filtration membranes are faced with issues such as fouling and high breakage, while the developing countries with high industrial output are generating wastewater which is increasingly harder to treat."
Reduced biofouling
With the new Nano Sun's membranes, biofouling is greatly reduced as organic material and bacteria are killed and destroyed when they come into contact with the membranes, its creators say.
Any organic material that does not decompose can be quickly burnt by putting the membrane in an oven heated to 700°C, since it is able to withstand high heat, unlike traditional polymer membranes.
The invention, developed at NTU, is now ready for sale in the market. Nano Sun is also investing in making smaller the membranes, which can be used for household needs as well as humanitarian aid and disaster relief. The startup is now working to scale up its production of membranes from 7 m per day to 100 m per day. It also aims to explore other product possibilities such as air filtration, disinfection (bandages) and solar cell industries.