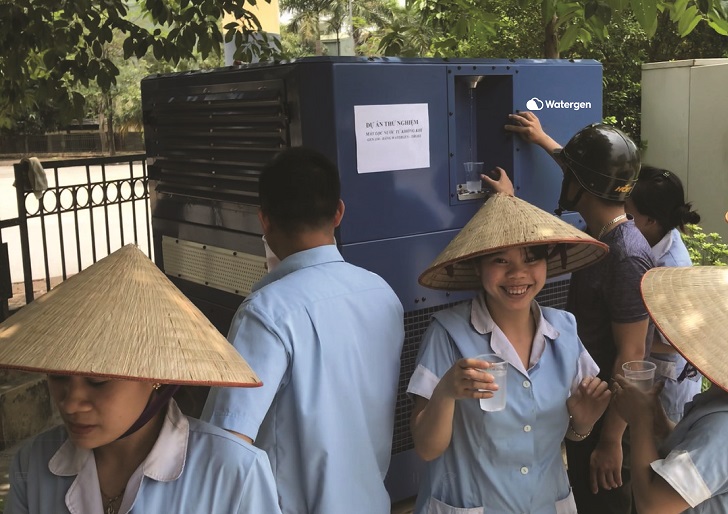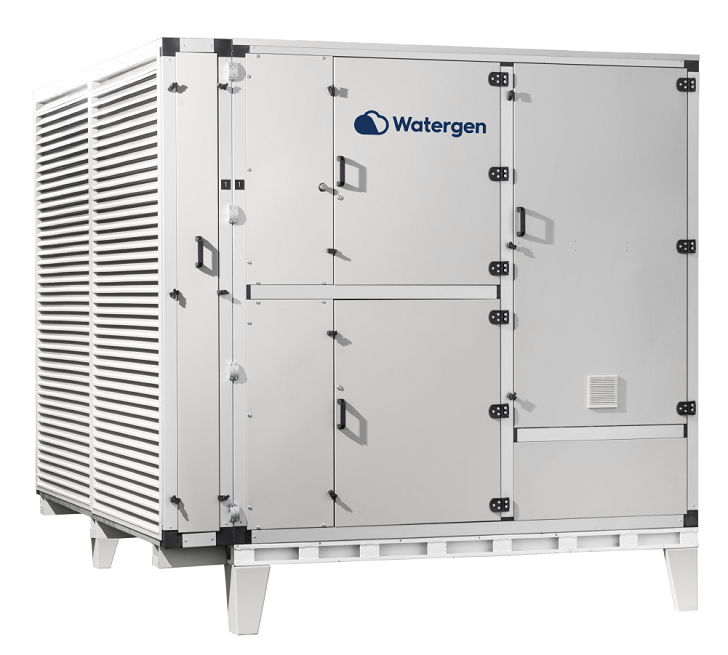 According to the United Nations, more than two billion people are living in countries experiencing high water stress. However, an Israeli company has developed technology which uses humidity in the air to create clean drinking water, potentially making fresh water accessible worldwide.
Watergen is based just a few miles south of Tel Aviv and since the company was established in 2009, it has become something of a specialist in the development and implementation of water-from-air solutions based on its GENius technology. The company's efforts to make fresh, pure water available around the globe earned it a place on the World Economic Forum's list of the world's top technology pioneers in 2018. 
The company began mass manufacturing its atmospheric water generators in 2017 and the first system was installed in New Delhi in India in the same year. Since then, Watergen generators have been used around the world in countries such as Brazil, Vietnam, Russia, Uzbekistan, Chile, Costa Rica, China, South Africa, Sierra Leone, Israel and Indonesia. 
The mobile units, which require no infrastructure other than an electricity source, have been deployed in cities and remote villages schools and office buildings. They have also saved lives following disasters and humanitarian crises in the US and around the world. Watergen says they are essentially a "self-sustaining source of renewable fresh, clean drinking water."
The generators Watergen has three main atmospheric water generators (AWGs) depending on the requirements of the situation. Each unit contains an internal water treatment system and can operate without any special infrastructure, which only  require an electricity source except a source of electricity. 
The large scale AWG is an industrial scale atmospheric water generator designed for towns, villages, factories, off-grid settlements and rural communities, which can produce up to 5,000 litres of water per day. They can also be installed on rooftops, helping to decentralise the supply of safe-drinking water in municipalities that have insufficient water infrastructure. 
The GEN-350 AWG weighs just 780 kg and is a medium scale, highly mobile water generator which can be used in most weather conditions. It is designed for schools, hospitals, commercial and residential buildings. This generates up to 900 litres of water per day depending on the humidity and temperature. It can also be set on a truck or trailer together with a generator and serve as an  emergency response vehicle. 
The technology  Watergen's GENius technology works by drawing air into the atmospheric water generator, where an air filter removes dust and dirt. The cleaned air then undergoes a heat exchange and cooling process which brings the air to the point where condensation occurs, and water is created. The water then passes through a multi-stage cascade of filters which includes chemical and biological filtration and mineralisation. 
The water is now ready to drink and is stored in a built-in reservoir where it is continuously circulated to keep it fresh. The company says that due to its proprietary patent GENius technology, the machines are relatively low in energy consumption, generating five times more water per kilowatt per hour than any other technology on the market. It can be operated either by electricity, generators or solar panels.
Economic impact The Watergen technology is already making a big difference to people and communities around the world, as it is now commercially available and affordable and the company believes it will have a major economic impact on the water industry in general. Other commercially available AWGs use conventional air-conditioning technology to generate water at tested efficiency rates of 650-850 watt-hours per litre.
Watergen's technology can generate clean, safe drinking water at just 250 watt-hours per litre, which equates to a 300% increase in output. The increase in output means the company can produce four litres of water for every kilowatt of energy, at a cost of two-four cents per litre for a renewable solution that costs less than local purified packaged well water.
Disaster areas In 2017, Watergen donated one of its large scale AWGs and a GEN-350 AWG to the American Red Cross and the Federal Emergency Management Agency (FEMA) to help in the aftermath of Hurricanes Harvey and Irma.
Watergen also has an Emergency Response Vehicle (ERV), which is a customised heavy-duty truck that securely transports Watergen's units in emergency situations and natural disasters. The company was a first responder during recent floods in Houston, Texas and sent manpower and its GEN-350 unit to the wildfires in California. Its mobile, flexible technology can provide water quickly and easily where there is very little infrastructure.
Severe drought Recently, Watergen was chosen by World Vision South Africa to launch a mobile water generation project for communities stricken with severe drought in the Eastern Cape. The drought has been caused by many different factors, including an increasing population, inefficient water infrastructure and a dependence on water by the coal industry. The atmospheric water generator chosen for the job was the GEN-350 because of ease of transportation and installation.
Over the next two years, the project will provide fresh, safe-drinking water to 50 early childhood development centres and almost all the 79 schools located in Uitenhage and KwaNobuhle. At least four clinics in an estimated 3,400 households are also expected to benefit.
Water for the future As it looks to the future, Watergen's vision is to use its technology to provide a renewable source of high-quality drinking water, extracted from the air and make it available anywhere, on demand and at a reasonable cost. Dr Michael Mirilashvili, president of Watergen, says: "Access to clean drinking water is an innate human right. No one in the 21st century deserves to live without access to clean drinking water, our mission at Watergen is to provide clean and safe drinking water to all people around the globe."