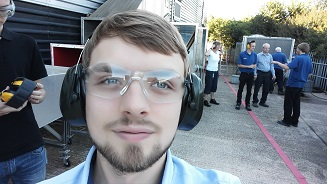 Why did you choose a career in the filtration industry? How did it begin?
Like many people, I started my search for a career online; looking through what seemed like an infinite list of placements and graduate jobs. It became apparent to me that the starting point for applications would have to be the choice of the industry I would like to go into.
I personally looked for something niche and dynamic, somewhere where there would be a real need for innovation over the next 30 years to secure a long term career.  Obvious trends towards higher efficiency power generation and the need for environmental filtration of automation lead me towards the filtration industry.
I happily accepted a placement at Altair, part of the CLARCOR industrial air group, where I could work on industrial filtration ranging from marine filtration for the latest generation of the world's navy vessels, to the largest power generation turbines for GE.
Although universities are now great for teaching teamwork, as well as practical and theoretical skills, it's still a steep learning curve when you begin your career. (Image: Iakov Filimonov/Shutterstock)
What were your biggest influences?
This is a difficult question to answer.  I have always been drawn to engineering and inspired by a search for efficiency. In my mind, efficiency is something for nothing. I love when you can offer a customer a solution that will make them money, everyone wins and the customer leaves happy.  
What was you experience at university? In what ways do you think it could be improved?
I greatly enjoyed my time studying mechanical engineering at the University of Portsmouth and benefited from the 'hands-on' attitude that it offered.  I learnt a great deal of practical and theoretical engineering skills that I use every single day in my current role. 
One of the few things I feel that universities could benefit from in the future is an increased focus on 'soft' engineering skills. In the real world, providing customers with a product that not only functions brilliantly but one that fits their needs is crucial. It was a massive learning curve for me when I entered industry, where you are expected to interpret the customer's needs, as well as understand the engineering solutions to solve them.
What were the things you enjoyed most at university?
I personally thought that the opportunities offered to me when completing my dissertation were the highlight of my university experience. I used state-of-the-art instrumentation such as electron microscopes and impressive furnaces to test the surface finish of the next generation of gas turbine super alloys. I was the first person ever to see the effect that this surface finish had on oxidation characteristics of these alloys, and contributed towards research papers at the cutting edge of material technology.
If you had any work placement experiences, what were they like? In what ways could they have been more useful?
I took a placement at Altair, part of Clarcor Industrial Air, and benefited from a diverse year, taking my place in both the customer-facing engineering team, as well as the implementation side of the business, managing small projects as a project manager, and working with suppliers in the sourcing team. I went back to university with a broad range of experiences and an idea of how the industry really works.
An important thing for companies to remember when considering a placement student is that they are there for the experience alone. Placement salaries are typically not much greater than working at a pub, and if opportunities for personal development are not provided, then it can be a wasted experience.
What was the attitude of employers at interviews? What were they interested in?
I've attended a number of interviews, and have been surprised at the level of interest in my extra-curricular volunteering and projects. This became apparent to me to such an extent that the focus of my CV has changed; it now highlights my hobbies and experiences more than my academic results and has been well received.
I have also been surprised by the number of practical challenges I have had to undertake during interviews, often being given a product to analyze and explain its design decision to the experts who created it, which I have found quite intimidating.
In addition, I found that spending a year in industry was invaluable when it came to interviewing. It not only is a great experience, but it also shows that you are a business-focused, motivated individual.
When you began your career, how useful did you find your education process? What are the things you wish that you had known?
Although universities are now great for teaching teamwork, as well as practical and theoretical skills, I still found it a steep learning curve, for example, when I was expected to present design reviews to a chief engineer, who critiques the engineering alone.
At university, there is often a focus on presentation, English skills and creativity, rather than looking at a project more critically, and having to have every engineering decision justified.  
In your opinion, why do you think that most of your peers don't seem to appreciate the engineering that goes into modern filtration?
I'm always surprised by the public opinion of the filtration industry. People see it as a stagnant industry that has low interest and innovation when I feel that in reality, in many industries the filtration system is the best way to improve a system economically and make it more.
If you take a power generation gas turbine, for example, huge amounts are spent on R&D, on next generation alloys in order to squeeze out fractions of a percentage of improved efficiency; whereas a good filtration system can improve efficiency by 3-5% and reduce downtime to a fraction of what it would be with a traditional filtration solution.
I find young engineers look at filtration as dull, whereas they see gas turbines as more exciting and dynamic and in my opinion, often the opposite is true.
In what ways do you consider filtration is important in our lives?
I think it's important to understand that filtration affects everyone's lives. Most people don't consider the oil and air filtration that keeps their car running cleanly and efficiently, the fact that when they turn on the kettle that a gas turbine is kept running at peak efficiency due to high tech  filtration, and how their life-saving drugs are created and kept uncontaminated thanks to the filtration industry.
What are the three major facts you think everyone should know about filtration?
1.       I think it's important to realise that filtration is a long term investment. You can get cheap filters in any industry, for any piece of machinery, which may have no negative effect on initial performance. What you get when you buy high-quality filtration products is assurance that your car will still run well at 100k miles, and that your gas turbine will not get damaged due to a filter blow out.
2.       In addition, I would like to draw attention to the innovation going on in the filtration industry. Electrostatic precipitators are used to remove smog, hydrophobic filters can strip water from the air, and the medical industry can effectively filter viruses from the air in hospitals.
3.       The filtration industry is growing fast. Due to growing environmental concerns and government emission regulations investment is high and growth is anticipated within the industry.